Mongolian Beef Ramen Noodles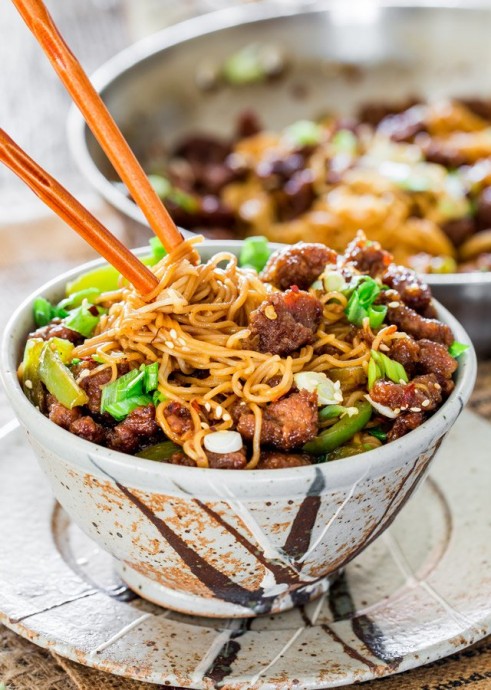 Mongolian Beef Ramen Noodles – a copycat recipe of the popular PF Chang's Mongolian Beef but made better with green peppers and ramen noodles. So simple to make and so delicious, you'll want to forget about takeout!
This dish is pretty westernized, so it's safe to say it's not quite traditional Mongolian fare. Especially since you mostly see it in Chinese American restaurants! We're going to learn some new techniques today with this dish, such as velveting our beef by tossing it in corn starch to achieve that perfectly crunchy rice, as well as create a sinful sauce with a little thickener.
Since this is a dish that packs a bit of veggies, protein, and carbs all in one place, you can enjoy this all on its own, but isn't that just less fun? Try some of these awesome recipes if you'd like to make an entire tasty spread! Serve with Orange Chicken, Instant Pot Beef and Broccoli, Instant Pot General Tso's Chicken, Chili Garlic Shrimp, and more. You can freeze this recipe! Just prepare your meat, veggies, and sauce and allow them to cool completely before storing in an airtight container in the freezer for up to 3 months. Reheat in the microwave or on the stove when ready to eat. Cooked ramen noodles don't freeze well so cook them when you're ready to serve your supper.
Ingredients:
1 1/2 lb flank steak
1/4 cup cornstarch
1/4 cup vegetable oil
1 green bell pepper sliced into thin strips
8 oz ramen noodles uncooked
3 green onions chopped
2 tbsp sesame oil
3/4 cup soy sauce low sodium
2/3 cup brown sugar packed
1 1/4 cup chicken broth low sodium, or no sodium added
4 cloves garlic minced
1/4 tsp red pepper flakes