Teriyaki Chicken Quesadilla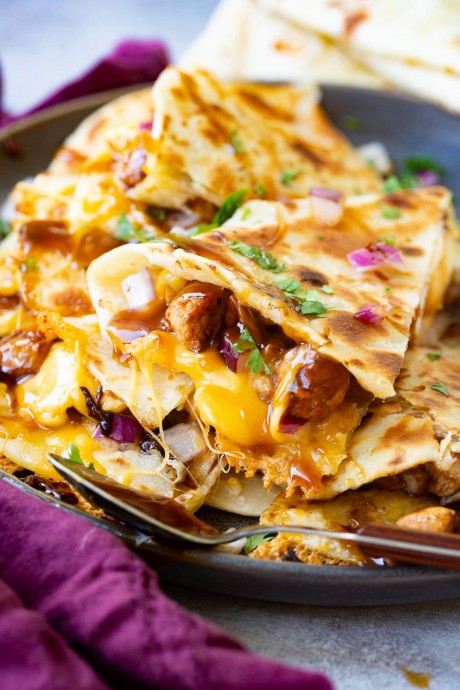 Teriyaki chicken stuffed in a cheesy quesadilla…it doesn't get much better than that! I love the sweet and tangy flavor of teriyaki especially on chicken. Wrap it in gooey, melty cheese and a buttery tortilla, and you have yourself an out of this world meal! A quesadilla is a tortilla that is filled with meat, cheese and sometimes other ingredients. In order to make these quesadillas, you need some cooked teriyaki chicken. We have the best easy teriyaki chicken recipe so start there! Our perfect cheesy quesadilla post also has a few tips for making the best quesadilla that you should read too.
If you are using uncooked tortillas, cook those first. Then put cheese on one of the tortillas and some of the shredded chicken and drizzle with teriyaki sauce. Top the chicken with more cheese and then top with the other tortilla. Place the tortilla back in the skillet to melt the cheese. Flip it once and when the cheese is melted, you are ready to roll! It is then heated on a griddle until the cheesy is melted and the tortilla is crispy. Basic teriyaki chicken is not spicy. Teriyaki sauce is sweet and tangy, but not spicy. You can definitely make it spicy if that's what you are after! I don't love spicy, so I like to keep it just sweet and tangy. It will keep in the refrigerator for 4-5 days if it is stored properly. It should be stored in an airtight container.
Ingredients:
1 Chicken Breast
4 tortillas Flour Tortillas Uncooked
2 cups cheddar cheese grated
Teriyaki Sauce
3/4 cup low sodium soy sauce
1/2 cup water
1/3 cup brown sugar
1 tablespoon honey
3/4 teaspoon ground ginger
1 teaspoon sesame oil
1 small garlic clove minced fine
2 Tablespoons corn starch
2 tablespoons cold water