Hot Cocoa Cupcakes with Marshmallow Buttercream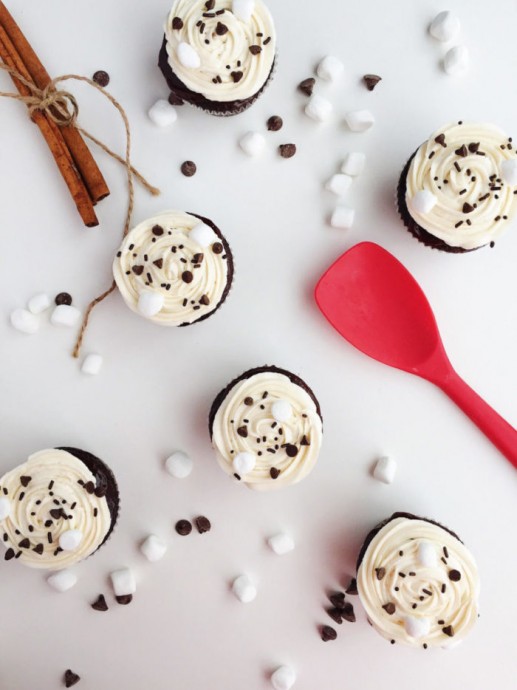 These Hot Cocoa Cupcakes taste like a cozy cup of hot chocolate, in cake form. Moist chocolate cupcakes are topped with a winter-spiced chocolate ganache and fluffy marshmallow buttercream. These Hot Cocoa Cupcakes may indeed be your new favorite. You will like a moist, rich chocolate cake batter that and amazing marshmallow buttercream. The batter is incredibly simple, though, and can be made in one bowl, no mixer necessary.
I then top the cupcakes with a chocolate ganache that's spiced with cinnamon and freshly ground nutmeg. Then, of course, the creme de la creme. What mug of hot chocolate is complete without some marshmallows? Naturally, these Hot Cocoa Cupcakes get crowned with fluffy, pillowy, vanilla-scented marshmallow buttercream. Little fixin's such as mini chocolate chips, mini marshmallows, and chocolate sprinkles are a nice finishing touch. Perfect for the winter and a homely cupcake that anyone would love, I hope that you enjoy these Hot Cocoa Cupcakes for yourself, or perhaps to share or gift to someone who you appreciate.
Ingredients:
FOR THE CUPCAKES:
1 stick butter
1/2 cup vegetable oil
1 cup coffee
1 3/4 cup flour
3/4 cup unsweetened cocoa powder (not Dutch processed)
1 cup sugar
1 cup brown sugar
1 1/2 teaspoons baking soda
1/2 teaspoon salt
2 eggs
1/2 cup buttermilk
2 teaspoons vanilla
FOR THE GANACHE:
8 ounces semisweet chocolate, chopped
3/4 cup cream
1 teaspoon vanilla
1/2 teaspoon cinnamon
1/4 teaspoon nutmeg
Pinch salt
FOR THE FROSTING:
4 sticks butter, room temperature
14 ounces marshmallow creme
2 cups confectioners sugar
1 tablespoon cream
1 vanilla bean