Espresso Chocolate Chunk Brownies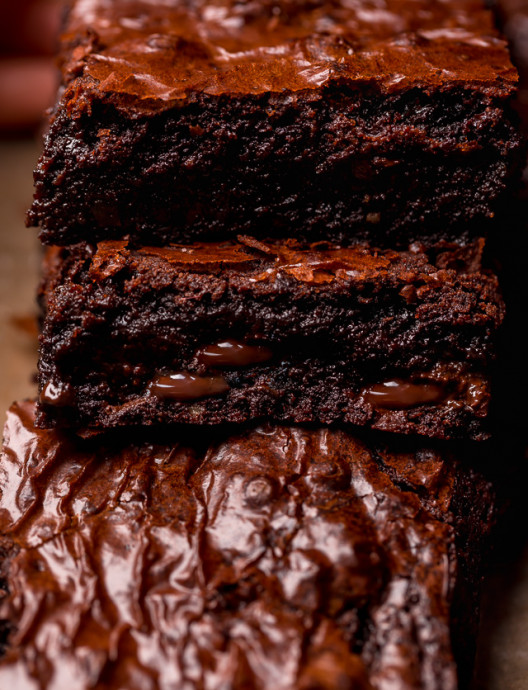 Coffee lovers will go crazy for these Espresso Chocolate Chunk Brownies! They're thick, fudgy, and loaded with rich chocolate espresso flavor. One of our favorite brownie recipes and always a crowd-pleaser! These Espresso Chocolate Chunk Brownies are insane! They're chewy at the edges, gooey in the middle, LOADED with chocolate chunks, and spiked with a good dash of espresso powder. These brownies are basically love in a baking pan! Especially if coffee and chocolate are your love language.
Nothing compares to the intoxicating smell of freshly baked brownies! Give these espresso chocolate chunk brownies a try and let me know what you think. Don't skip the espresso powder! It helps enhance the flavor of the chocolate without adding an intense coffee flavor. You can buy chocolate chunks in the baking aisle at most grocery stores, or you can buy bars of chocolate and chop them into chunks for yourself. Be sure you don't over bake the brownies! They should not be liquid when you pull them out of the oven, but don't be afraid if they have a little jiggle in the middle. The brownies will firm up as they cool. Over baked brownies will not be fudgy.
Ingredients:
1 and 1/4 cups all-purpose flour
1/4 teaspoon salt
2 and 1/2 tablespoons unsweetened cocoa powder
12 ounces semi-sweet chocolate, roughly chopped
1 cup unsalted butter, cut into small cubes
3 teaspoons instant espresso powder
2 cups granulated sugar
5 eggs, at room temperature, lightly beaten
1 tablespoon vanilla extract
2 cups chocolate chunks