Socca Recipe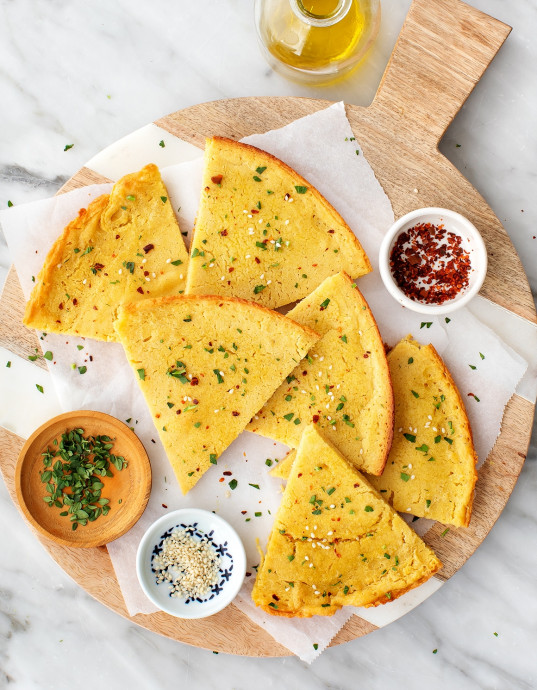 If you're not familiar with socca, it's a savory chickpea pancake with crisp, golden brown edges and a moist interior. It's popular throughout southern France and northern Italy, and once you try it, you'll see why. Chickpea flour and olive oil give it a rich, nutty flavor, and its crispy edges are so tasty that you won't be able to help reaching for a second slice.
Served plain, it makes a delicious appetizer, side dish, or snack, but with the right toppings, this easy socca recipe can pass as a main dish too. At this time of year, I love to pile it with a flavorful sauce, fresh herbs, and veggies and call it dinner. You only need 4 ingredients to make this simple socca recipe: Chickpea flour – This grain-free flour is made from finely ground dried chickpeas. Also called garbanzo bean flour or besan, it's easy to find online, but many regular grocery stores carry it too. Look for it in the gluten-free section or baking aisle of your store! Water – It mixes with the chickpea flour to create a pancake-like batter. Extra-virgin olive oil – It adds richness and depth of flavor. Sea salt – It gives the socca a yummy savory flavor and highlights the chickpeas' earthy, nutty taste.
The rich, crispy socca is fantastic plain, but it's even better with toppings or dips. Have fun experimenting with different ways to dress it up! Here are a few ideas to get you started: Top it with a drizzle of olive oil and za'atar for an easy, flavorful appetizer. Shower it with grated Parmesan cheese and freshly cracked black pepper. Slather it with labneh, hummus, baba ganoush, or tzatziki. Drizzle it with green goddess dressing, tahini sauce, pesto, or vegan pesto. Then, layer on thinly sliced beets or radishes and fresh herbs to make a light, refreshing meal or snack. Pickled red onions would be great here too.
Ingredients:
1 cup chickpea flour
1 cup water
1¾ tablespoons extra-virgin olive oil, divided
½ teaspoon sea salt