Fresh Fig Cake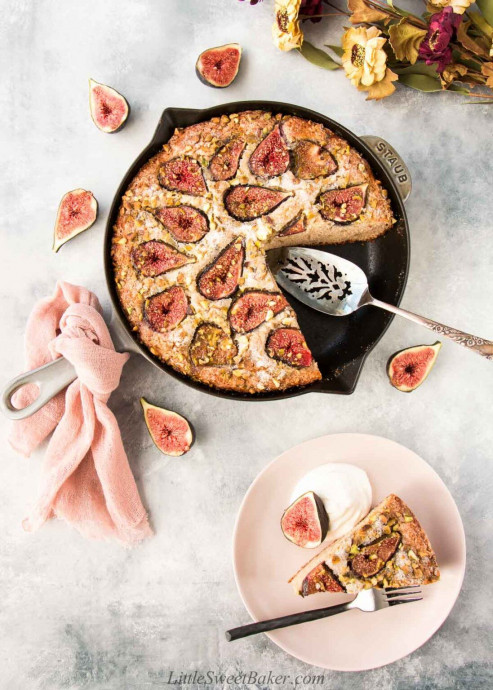 This recipe uses melted butter, so you can prepare the whole thing by hand with ease. This cake only takes 15 minutes to whip up and 30 minutes to bake, so in 45 minutes you have cake!
Versatile – It can be served as a dessert, snack, or even warmed up the next day for breakfast. Who doesn't love cake for breakfast? Select soft and plump figs with stems intact. Rinse them with a little cool water and gently wipe dry. Cut off the stems and cut the fruit in half lengthwise.
Enjoy the cake as is or serve it with a dollop of whipped cream and some fresh figs alongside. You can also drizzle some honey on top or dust it with powdered sugar if you like it sweeter. The cake is also excellent warmed up and served for breakfast with some yogurt and fresh fruit as well.This recipe works well with other fruits like fresh ripe pears, nectarines, plums, and apricots. A moist, fluffy, and lightly spiced cake topped with jammy baked figs and crunchy pistachios make this fresh fig cake absolutely irresistible.
Ingredients:
Cake
2 1/2 cups (315g) all-purpose flour
3/4 cup (150g) granulated sugar
2 tsp baking powder
1/2 tsp baking soda
1/2 tsp salt
1 tsp ground cinnamon
1/4 tsp ground nutmeg
1/4 tsp ground cloves
1 1/2 cups (360ml) buttermilk
1/4 cup (60ml) melted unsalted butter
1/4 cup (60ml) honey
2 large eggs
1 1/2 tsp vanilla extract
Topping
8–10 fresh figs (depending on size) cut in half
1/4 cup chopped pistachios
3 tbsp granulated sugar