Carnitas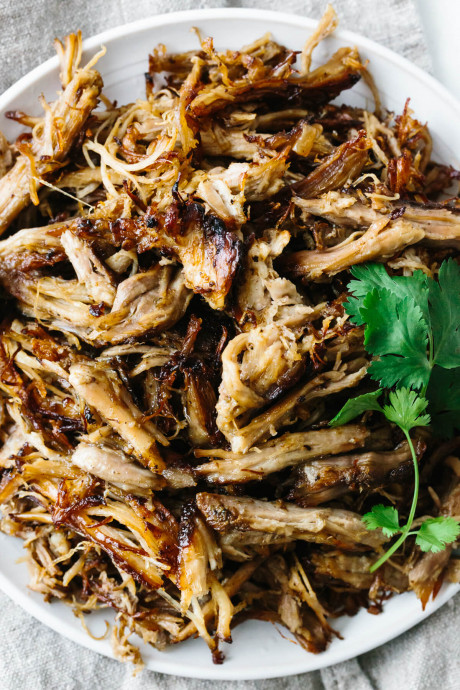 Carnitas is juicy and tender shredded pork with crispy, flavorful edges. It's a staple in Mexican cuisine and easy to make at home. All you need to do is toss all the ingredients in your slow cooker, let it do its magic, then pop the shredded pork under the broiler to get those crispy, caramelized edges. I don't know about you, but I'd say that pork is one of the most flavorful, versatile, and textural meats. It can easily be transformed into something tender and crispy with an addictive flavorful thanks to a few spices and seasonings. And there's no doubt that Mexican cuisine has created one of the best pork recipes – carnitas.
While I'm a huge lover of regular pulled pork, carnitas hits a bit differently – in a good way. It exudes delicious rich flavors from the spice blend. But is also tender on the inside with perfectly perfectly browned edges, giving you the best of both worlds.
Traditionally, carnitas is made with pork shoulder (also known as pork butt) because of its higher fat content. This will help keep the meat extremely juicy and tender while it's cooking. These carnitas taste insanely delicious on their own. But you can use it as a base or side to create even tastier meals. Tacos: Serve carnitas tacos with tortillas and various fresh toppings such as avocado slices, pico de gallo, chopped cilantro, and a squeeze of lime juice. Plate: Whip up some. Mexican rice and black beans to pair with the carnitas on a classic plate dish. Bowl: Turn it into a burrito bowl with rice, beans, avocado, pico de gallo, and guacamole.
Ingredients:
4 pound boneless pork shoulder or butt
1 tablespoon dried oregano
1 tablespoon ground cumin
2 teaspoon chili powder
1 teaspoon salt
1/2 teaspoon black pepper
1 yellow onion, diced
4 garlic cloves, minced
1 jalapeno, deseeded and finely diced
1 orange, juiced