Crème Brûlée Cheesecake Bars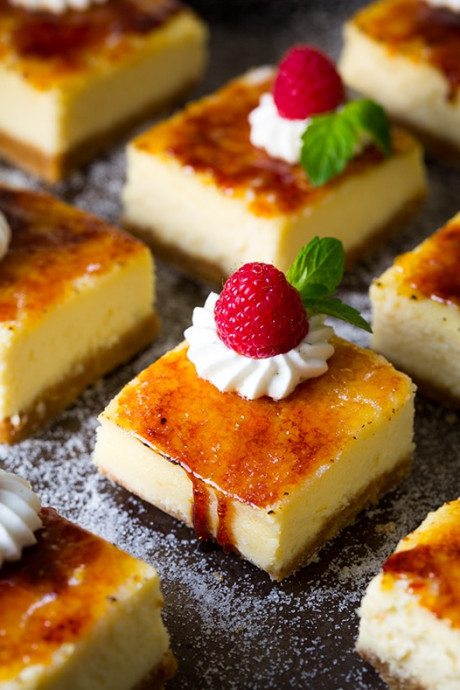 Two of the worlds best desserts come together to make these unbelievably delicious Crème Brûlée Cheesecake Bars. I don't think I could express in words how much I love these things! They are a dream come true. Everything about them is absolutely amazing.
The contrast of these bars is part of what makes them just so good. That brittle, perfectly caramelized, crunchy shell atop a silky smooth and richly creamy cheesecake, which rests over a slightly salty, slightly sweet, buttery graham cracker base that crumbles in your mouth with each bite.
And then if you really want to go all out, top them with a little lightly sweetened whipped cream (because everything is good topped with a little cream) and then garnish them with fresh raspberries to add a layer of fresh flavor and a light tartness to compliment the tang of the cream cheese.
If you're like me, you will want to savor each and every last spec of it, and then hide rest from the world because sometimes it just to hard too share something so good :). If you don't already own a culinary torch, here's your reason to buy one. Enjoy!
Ingredients:
Crust
1 1/4 cups finely crushed graham cracker crumbs (from about 9 sheets)
2 Tbsp granulated sugar
6 Tbsp butter, melted (preferably salted)
Cheesecake filling
3/4 cup granulated sugar
1 1/2 Tbsp all-purpose flour
2 (8 oz) pkgs. cream cheese, softened
3 large eggs
3 Tbsp heavy cream
3 Tbsp sour cream
1 tsp vanilla extract
Topping
6 Tbsp granulated sugar
Whipped cream, fresh raspberries and fresh mint for garnish (optional)