Gingerbread Coffee Cake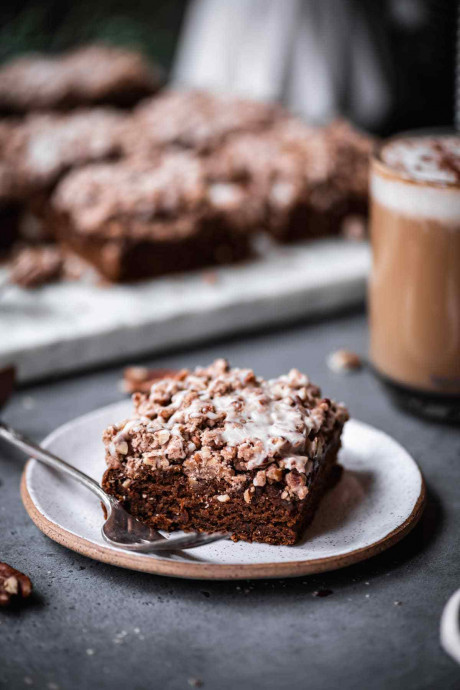 This vegan and gluten free spiced gingerbread coffee cake is topped with a buttery pecan streusel and a vanilla bean glaze. It's tender, moist, perfectly spiced and absolutely delicious!
If had to choose one breakfast pastry to make all winter, it would 100% be this gingerbread coffee cake. The cake is packed with warming gingerbread spices. It's perfectly tender and not too sweet, so it's perfectly acceptable as breakfast.
The streusel topping adds a crunchy, nutty, buttery component, and the sweet vanilla glaze ties everything together. Feel free to substitute pecans in the streusel with finely chopped almonds, walnuts, or even sunflower seeds for a nut free option. Apple cider vinegar is an essential ingredient, as it reacts with baking soda to create a rise in gluten free and vegan baked goods. NOTE: wait to add the apple cider vinegar until right before you bake this cake, otherwise the reaction will occur too early in the baking process. Store leftovers in an airtight container at room temperature for up to 5 days.
Ingredients:
1 ¾ cups gluten free all purpose flour (or regular AP flour)
½ cup fine almond flour
½ cup cane sugar
2 tsp baking powder
½ tsp baking soda
1 tbsp ground ginger
2 tsp cinnamon
¾ tsp nutmeg
½ tsp ground cloves
¼ tsp fine kosher salt
¼ cup applesauce (unsweetened)
¼ cup unsulphured molasses
2 tbsp melted coconut oil
2 flax eggs (2 tbsp flax meal + 5 tbsp water)
¾ cup nondairy milk or creamer (oat, cashew, etc)
2 tsp vanilla extract
1 tsp apple cider vinegar
⅔ cup gluten free all purpose flour
⅔ cup finely chopped pecans or almonds
1 tsp cinnamon
½ tsp ground ginger
Pinch of salt
3 tbsp maple syrup
2 tbsp melted coconut oil
½ cup powdered sugar
1 tbsp nondairy milk
¾ tsp vanilla bean paste (or vanilla extract)