Pastitsio (Greek Lasagna)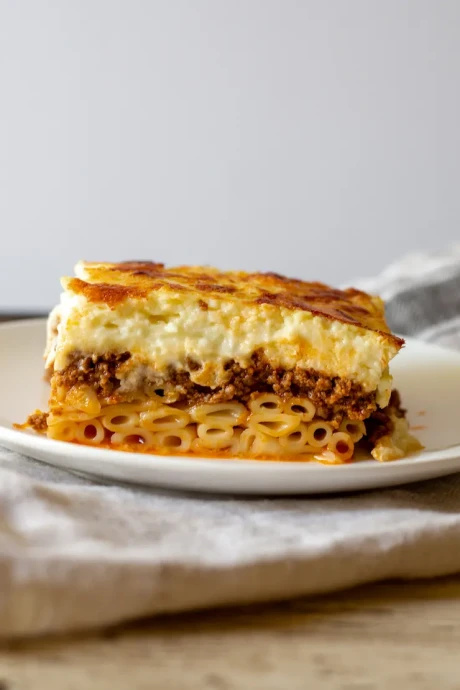 Authentic Pastitsio, or Greek lasagna - layers of pasta, cinnamon-laced beef, Kasseri cheese and béchamel. Pastitsio is Greek comfort food, pasta layered with meat, cheese and béchamel sauce. Picky Eater loves pastitsio. Come to think of it, I think the whole family likes it. We've had it numerous times at the Greek church Friday luncheons, and I've made it a couple of times over the past 20 years or so. Then I got this version, authentic home cooked Greek grandma pastitsio!
The pastitsio noodles are long tubes of pasta. I found these at a local specialty grocer. If you can't find, I have used mostaccioli noodles as a good substitute (not penne, with the ridges). And the cheese. Here's where I get weak in the knees. Kasseri cheese. It's Greek, duh. Making the sauce a day ahead helps, and it's way better the next day anyway. Then it's just the béchamel, grating the cheese and layering the pastitsio. Not hard at all. If you like Greek food, want to try making it at home, try this, you will love it.
Ingredients:
3 pounds ground beef
1 large onion, chopped
2 15-ounce cans tomato sauce
1 tablespoon ground cinnamon
coarse kosher salt
1 package pastitsio noodles, or mostaccioli
1/2 pound or more kasseri cheese, grated, about 4 cups (or asiago or an Italian blend) ~ Flora uses a lot of cheese, like a pound!)
4 eggs
1 1/2 sticks unsalted butter
1 cup flour
5 1/2 cups whole milk