Citrus Salad with Fennel & Avocado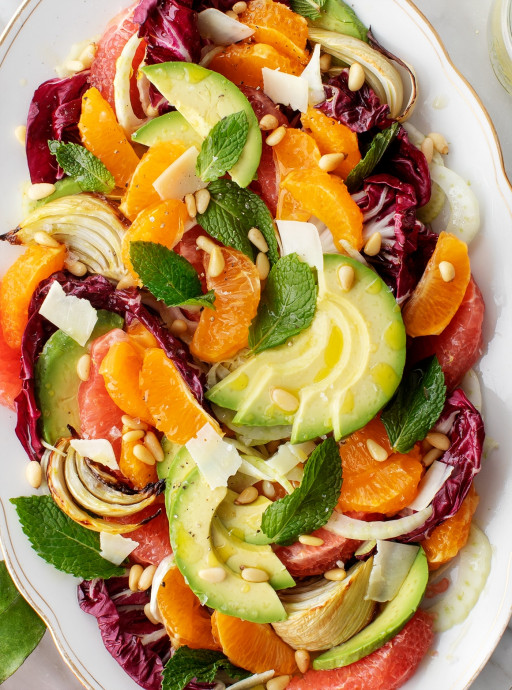 If a tomato salad is the best part of summer, a citrus salad is surely its winter counterpart. When tender greens and bursty berries are still months away, citrus season is at its peak. Good tomatoes may be scarce, but satsumas, grapefruit, oranges, and mandarins are sweet and acidic, juicy, and vibrant. So if I'm in the mood for something fresh, light, and bright in the winter months, a citrus salad is the first thing I turn to. When I'm adding citrus to a salad, you can bet that fennel, avocado, and mint won't be far behind. Each of these ingredients highlights the sweet, juicy fruit in a different way.
This recipe is my favorite citrus salad yet! It uses a mix of fruit to show off the season's best, and it's full of crisp, aromatic, salty, and bitter elements to accent the sweet, juicy citrus. It would be a show-stopping side dish for any dinner or brunch, but if you're like me, you'll want to eat this salad pretty much all the time. Pair it with a scoop of farro or top it with a handful of crispy roasted chickpeas, and call it a meal. I hope you love it as much as I do!
Ingredients:
1 fennel bulb, sliced into wedges and roasted
1 fennel bulb, very thinly sliced
5 radicchio leaves, torn
2 satsumas or 1 small orange, segmented
1 small pink grapefruit, segmented
1 avocado, sliced
2 tablespoons pine nuts
¼ cup shaved pecorino
¼ cup fresh mint leaves
Sea salt and freshly ground black pepper
¼ cup extra-virgin olive oil
2 tablespoons lemon juice
1 garlic clove, grated
½ teaspoon Dijon mustard
¼ teaspoon sea salt