Lemon Blueberry Bundt Cake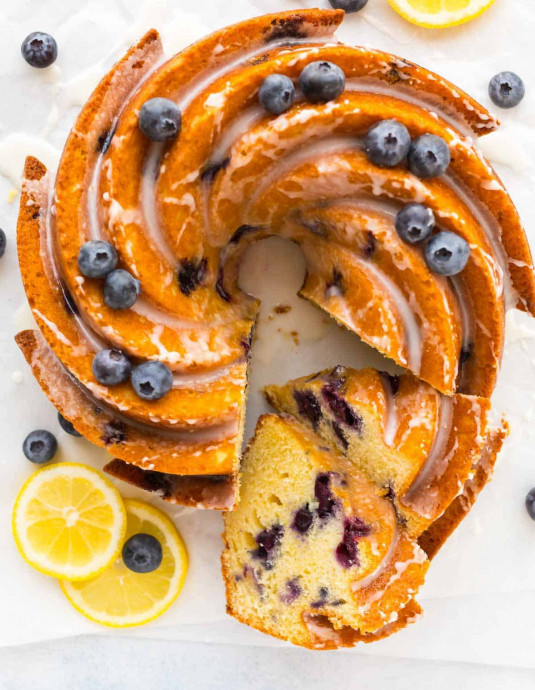 This Lemon Blueberry Bundt Cake is about to make you the most popular guest at the party. It's also about to guarantee that you'll never be allowed to bring any other dessert to a party again. Once your friends take a bite of this sunshine-bright, supremely moist, and oh-so-second (and third)-sliceable beauty of a bundt, they will absolutely insist. I promise you won't mind.
Blueberries can be swapped for the same amount of raspberries.You don't need to make Lemon Blueberry Bundt Cake with cake mix to have an impressive dessert that comes together fast. The batter takes 20 minutes to mix (fewer if you are an experienced baker), and the shape of the cake itself is in your favor. Fluffy and bursting with lemon flavor and fresh blueberries. Easy and impressive, this is one of our favorite desserts! This recipe can also be used to make 20 lemon cupcakes!
Ingredients:
8 tablespoons unsalted butter (1 stick) at room temperature
1/4 cup nonfat plain Greek yogurt at room temperature
1 3/4 cups granulated sugar
3/4 teaspoon kosher salt
4 large eggs at room temperature
3 cups all-purpose flour
2 teaspoons baking powder
1/2 teaspoon baking soda
1 cup well-shaken low-fat buttermilk, at room temperature
Zest of 2 medium lemons
1 1/2 cups fresh blueberries optional (see notes if using frozen)
1/2 cup powdered sugar
1 tablespoon freshly squeezed lemon juice
1/2 tablespoon low-fat buttermilk