Dill-Seasoned Oyster Crackers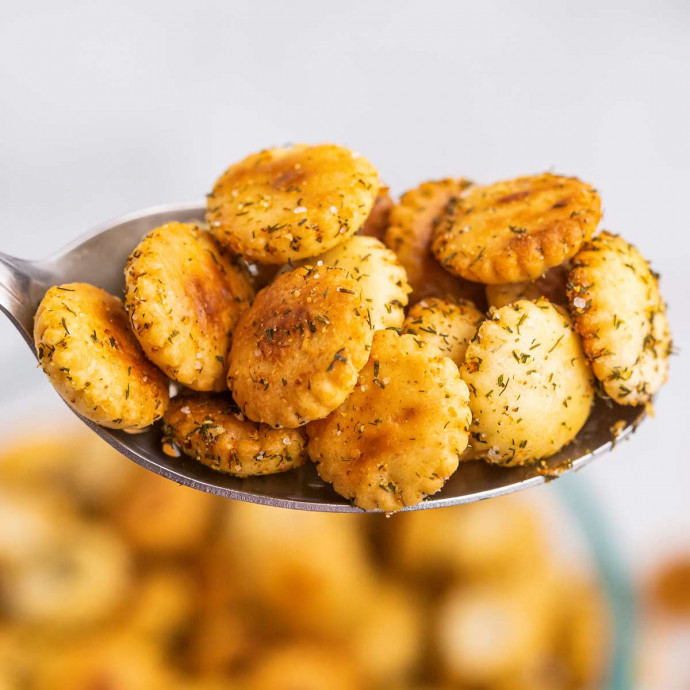 These Dill-Seasoned Oyster Crackers are the bold and satisfying snack you've been dreaming of! Simple seasonings, oyster crackers, and a bit of oil are tossed then baked until crunchy and fabulous!
These seasoned oyster crackers are made with simple, pantry ingredients. In fact, you may have all the ingredients to make these right now! They're perfect on their own as a handy snack, and fabulous on top of your favorite soup. For even easier cleanup, try mixing the crackers and seasonings in a resealable plastic bag! Just add all the ingredients, seal, and give it a good shake and massage all the seasonings into the crackers. Bake as directed and enjoy!
Try different variations of this recipe: Ranch – a lot of recipes for seasoned oyster crackers include a packet of ranch dressing. It's absolutely delicious, so feel free to add a 1oz packet to this. You may need to reduce the salt, as some ranch dressing packets can contain a lot of sodium. Zesty Italian – along the same lines as the ranch packet, a lot of people enjoy adding a packet of zesty ranch dressing. Spicy – try adding 1-2 Tbsp (or more or less, depending on your tastes) to the seasoning mix for crackers with a bit of zip and spice! Fresh herbs – if you happen to have fresh dill in your house, you can use fresh, but as a general rule, you'll want 2-3x the amount of fresh, since dried herbs are more concentrated. Worcestershire sauce – for another fun flavor twist, try adding 2 Tbsp of Worcestershire sauce to the seasoning mix.
Ingredients:
2/3 cup vegetable oil
1 1/2 – 2 Tbsp dried dill weed
1 Tbsp garlic powder
1/2 tsp kosher salt
18 oz (2 – 9 oz each bags) oyster crackers