Maple Apple Blondie Recipe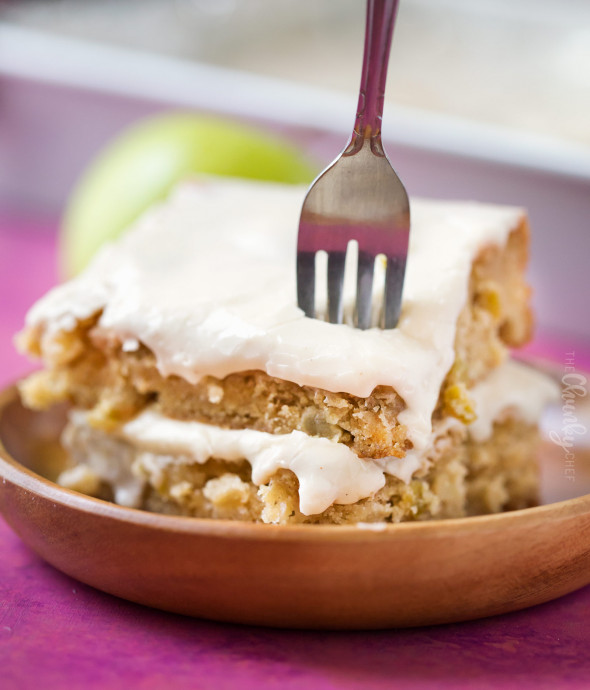 This sweet Blondie recipe uses crisp apples, maple syrup and warm cinnamon to make a melt in your mouth bar that's topped with a maple cinnamon frosting! The sweet maple Blondie base has a melt in your mouth texture, and is flecked with bits of softened cinnamon apple pieces. Seriously like taking a bite out of Fall!
Blondies are supposed to be like a lighter colored brownie, which are traditionally thin. But, if you absolutely must have a thicker bar, you could more than likely bake them in an 8×8″ baking pan. I've never tested the recipe out this way, so I can't say what the baking time would be… so I would bake them about 30 minutes, then start checking to see how done they are. Do you really have to use pure maple syrup? Of course, you don't have to, I'm not there baking with you, looking over your shoulder, but for the best taste, yes, use pure maple syrup. Those plastic jugs of imitation syrup just won't give you that amazing maple-y taste, plus they're basically just colored corn syrup.
Ingredients:
2 apples, peeled, cored, and diced (I used Granny Smith apples)
3/4 cup butter (divided)
scant 1/2 tsp ground cinnamon
1 cup brown sugar
1/2 cup granulated sugar
1/2 cup pure maple syrup
2 large eggs
2 tsp vanilla extract
2 cups all-purpose flour
1 tsp baking powder
1/2 tsp kosher salt
1/4 tsp baking soda
MAPLE CINNAMON FROSTING:
1/4 cup pure maple syrup
2 Tbsp butter, melted
2 cups powdered sugar
1-2 Tbsp half and half (start with one and see if you need the other Tbsp)
scant 1/4 tsp ground cinnamon