Homemade Hot Chocolate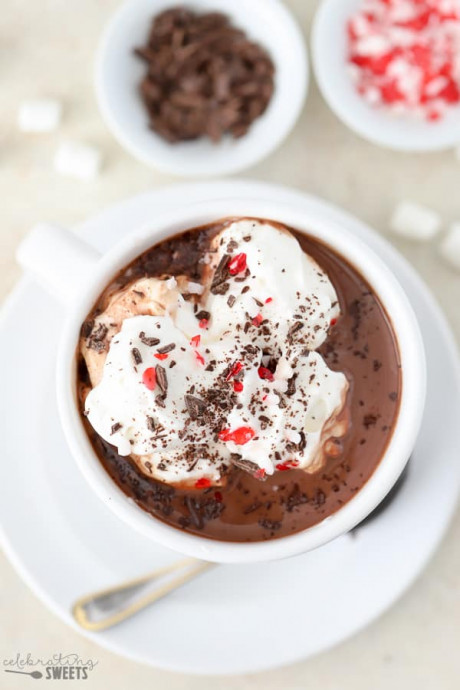 Creamy Homemade Hot Chocolate. A combination of cocoa powder and chocolate chips make this hot chocolate extra flavorful and delicious! Ready in minutes.
Homemade Hot Chocolate: You sweet, creamy heavenly thing. If you were wondering how I would like to spend every winter evening, it is curled up, with my hands wrapped around a warm mug of hot chocolate. Bonus points if that hot chocolate is topped with freshly whipped cream and a heavy sprinkle of chopped dark chocolate.
This recipe is made with a combination of cocoa powder and chocolate chips. The cocoa powder adds the distinct "hot cocoa" flavor, and the chocolate chips melt into the mixture making this drink extra creamy, rich and luxurious. A splash of vanilla extract rounds out all that chocolaty flavor and makes this what I consider the perfect Homemade Hot Chocolate. Throw a handful of real ingredients into a saucepan, and you will have Homemade Hot Chocolate in minutes! It's simple, delicious, and so much more satisfying than the store-bought stuff. Want flavored hot chocolate? Add cinnamon, peppermint extract, a shot of espresso, or a drizzle of caramel sauce. The options are endless!
Ingredients:
4 cups milk (preferably whole or 2%)
1/4 cup unsweetened cocoa powder
1/4 cup granulated sugar
1/2 cup bittersweet or semisweet chocolate chips or chopped chocolate bar
1/4 teaspoon pure vanilla extract