Cheesy Sausage Cornbread Quiche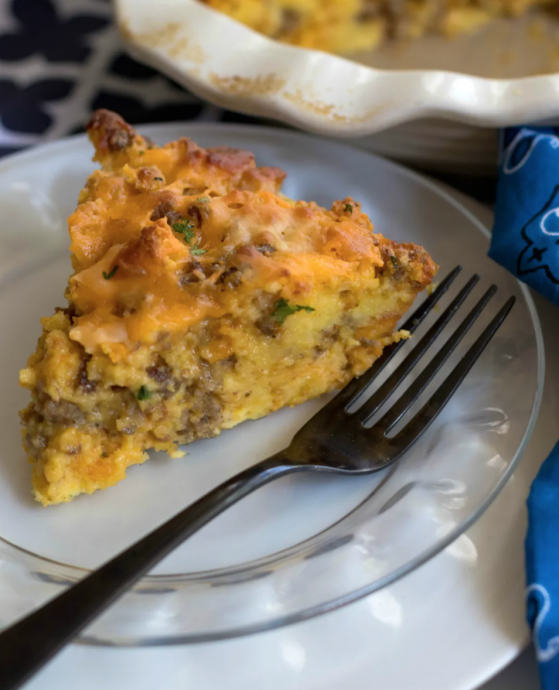 Easy on the family budget and cheesy enough to please picky kids, this old-fashioned Cheesy Sausage Cornbread Quiche is a cinch to assemble and bake. Two kinds of cheese, savory sausage, eggs, and tender cornbread are all baked together for an unexpected dish that's amazing! Cheesy Sausage Cornbread Quiche is ideal when you're feeding a crowd for breakfast and it's great for brunch, lunch or a special dinner with friends.
Cheesy Sausage Cornbread Quiche is a new take on the traditional quiche recipes you know. It's crustless since the cornbread turns into somewhat of a deconstructed crust that runs throughout the whole dish. It's loaded with cheddar and Parmesan cheese, eggs and is seasoned perfectly. It's a savory pie that takes very little effort to make and I promise, once you make it, you'll be blown away with how good it is. This recipe is so easy to make because you probably have 90% of the ingredients on hand. Each element is simple yet when combined they turn into something incredible!
Ingredients:
1 pound sausage - cooked and crumbled
2 cups cornbread - cubed (I use an 8.5 oz box of Jiffy cornbread muffin mix)
6 large eggs
1 cup half and half
1 teaspoon salt
1/2 teaspoon fresh cracked pepper
1 tablespoon fresh or dried chives
1/2 teaspoon garlic - minced
1/8 teaspoon nutmeg
2 cups sharp cheddar cheese - shredded
1/2 cup Parmesan cheese - shredded