English Sticky Toffee Pudding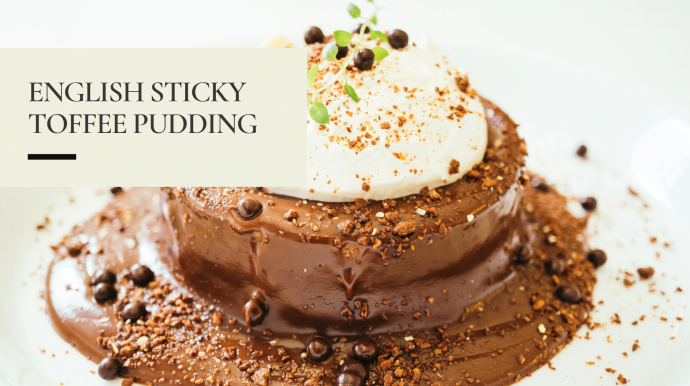 Britain is well known for their love of puddings, and the sticky Toffee Pudding is the favorite dessert of Catherine, Duchess of Cambridge (better known as Kate Middleton). I must say that I am not surprised! With a sweet moist date cake that is smothered in sticky toffee glaze, this creation is truly fit for royalty.
Indulgent yet wonderfully light, this caramel dessert with a sticky toffee sauce is ideal for any pudding lover. Try this deliciously moist vegan alternative to the traditional British iconic dessert for a rich after-dinner treat. This is a pudding to share – friends will thank you for it!
Ingredients
For the glaze
1 cup canned coconut milk, mixed well before measuring
1 cup dark brown sugar
4 tablespoons vegan margarine
1⁄4 teaspoon salt
Pudding cakes
16 (about 8 ounces) dates, pitted
1 cup canned coconut milk, mixed well before measuring 2 cups all-purpose flour
1⁄2 teaspoon baking soda
1 teaspoon baking powder
1⁄2 teaspoon salt
1⁄2 teaspoon ground cinnamon
1 cup brown sugar
1⁄2 cup vegetable oil (I use canola oil)
2 teaspoons white or apple-cider vinegar
1 tablespoon pure vanilla extract
nuts for garnish
Directions
To make the glaze:
In a medium saucepan, combine coconut milk, brown sugar, margarine, and salt. Bring to a boil over medium-high heat, stirring occasionally. Let cook for about 5 minutes and remove from heat.
To make the cakes:
Step 1
Preheat the oven to 350 F.
Step 2
Lightly grease two 12-cup cupcake pans. Prepare a grid cooling rack by fitting it on top of a large baking sheet.
Step 3
Place dates in a small saucepan with water to cover, and bring to a slow boil. Let the dates boil gently for 10 minutes.
Step 4
Drain and place in a food processor or blender with coconut milk. Process until combined and set aside.
Step 5
In a large bowl, whisk flour, baking soda, baking powder, salt, and cinnamon. In the bowl of a stand mixer, beat the date mixture, brown sugar, oil, vinegar, and vanilla. Slowly add the flour mixture and beat until just combined.
Step 6
Fill the cupcake cups about two-thirds full with batter. Bake for 18 to 20 minutes, or until a toothpick inserted in the center of the cake comes out clean with a few crumbs clinging to it.
Step 7
Remove from oven and, using a toothpick, immediately tilt the cakes so that they sit in the cupcake pans at an angle.
Step 8
Pour 2 tablespoons of glaze into each cupcake cup, then nudge the cakes so that they sit back into the cups. Let soak for about 10 minutes, then flip onto the prepared cooling rack. Top each cake with an extra tablespoon of glaze, garnish with nuts and serve immediately.
The vanilla ice cream is a perfect pairing, offering a refreshing creamy contrast to this otherwise ultra-rich and decadent dessert.
Bon appétit!