Cinnamon Sugar Swirl Cupcakes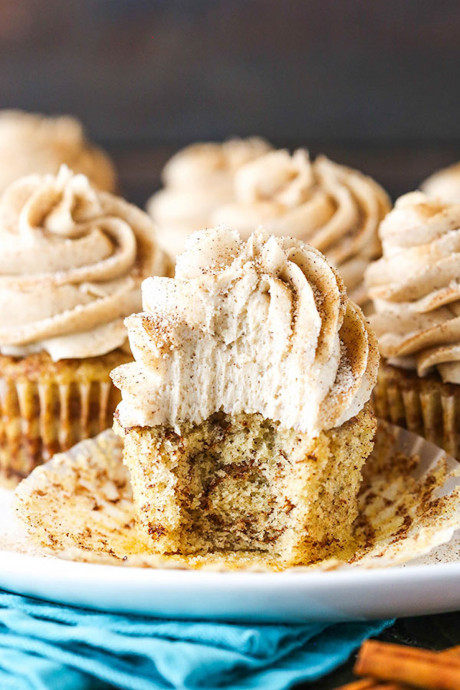 These Cinnamon Sugar Swirl Cupcakes are a dream of mine come true! There's cinnamon in the cupcake batter and layers of cinnamon sugar in the cupcake. Then, they're topped with cinnamon frosting and sprinkled with a little more cinnamon sugar. Irresistible! I absolutely love anything covered in cinnamon and sugar, so naturally I've been wanting to make cupcakes like these for forever. They're the perfect dessert for cinnamon lovers like myself. They are soft, light, moist, and absolutely FILLED with cinnamon.
And I didn't just want to add cinnamon to the batter. I wanted them to be unmistakably cinnamon-y. I figured what better way to do that than with 3 layers of cinnamon sugar! If you love cinnamon rolls, you'll love these cupcakes. You can store your cinnamon cupcakes at room temperature for 2-3 days, as long as you keep them in an airtight container. I store my cupcakes in my cupcake carrier, and I love taking the top off and having the smell of cinnamon sugar hit me like a tidal wave. You can almost taste the cinnamon in the cupcake without even biting into it!
Ingredients:
FOR THE CINNAMON SUGAR SWIRL
3 tbsp sugar
4 tsp ground cinnamon
FOR THE CINNAMON CUPCAKES
1 1/2 cups (195g) all-purpose flour
1 1/2 tsp ground cinnamon
1 1/2 tsp baking powder
1/2 tsp salt
6 tbsp (84g) unsalted butter, room temperature
2 tbsp (30ml) vegetable oil
1 cup (207g) sugar
1 1/2 tsp vanilla extract
2 large eggs
3/4 cup (180ml) milk
FOR THE CINNAMON SUGAR FROSTING
1 1/4 cups unsalted butter, room temperature
5 cups (575g) powdered sugar
2 1/2 tsp ground cinnamon
1 tsp vanilla extract
2–3 tbsp water or milk
Pinch of salt