Sweet Potato and Ground Beef Enchiladas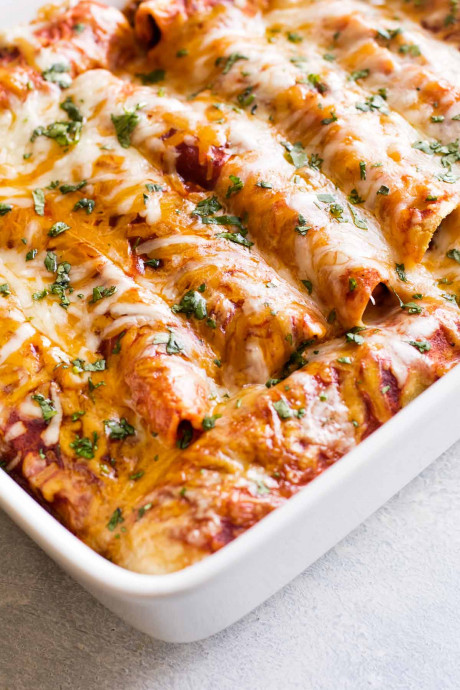 These hearty sweet potato and ground beef enchiladas are ready to serve in less than an hour! A few key shortcuts make these easy enchiladas doable on a weeknight or make them up to a day ahead to bake for dinner later. Topped with lots of cheese and enchilada sauce this a hearty and comforting dinner.These ground beef enchiladas are one of my favorite easy dinner recipes. They cure a Mexican food craving, they're super easy to make, and the combination of beef and sweet potatoes in the filling is great.
But what I love best about this recipe is how easy it is. There are shortcuts galore with this dinner making it doable on a weeknight but (!) you can also assemble the enchiladas ahead of time to bake later.
And it ranks high on the comfort-food gauge. Cheese, savory fillings, saucy red enchilada sauce, and more cheese go a long way to take the edge off a long day.
So, with a quick 15-minute potato and ground beef filling and even quicker wrap and roll assembly operation, this dish is ready to serve in under an hour. Most of that time, by the way, is oven time, otherwise known as hands-off time.
Ingredients:
1 tablespoons olive oil
1 pound ground beef (90% lean)
2 tablespoons dried chili or taco seasoning
1 (10-ounce) package frozen diced sweet potatoes
1/2 teaspoons kosher salt
1/4 teaspoon black pepper
1 teaspoon dried oregano
1 tablespoon chopped cilantro, plus extra for garnish
Juice of 1 lime, divided
2 cups store-bought or homemade enchilada sauce
12 corn tortillas, warmed
4 ounces shredded Monterey jack cheese
4 ounces shredded cheddar cheese