Easy Cranberry Bars With Pecan Graham Cracker Crust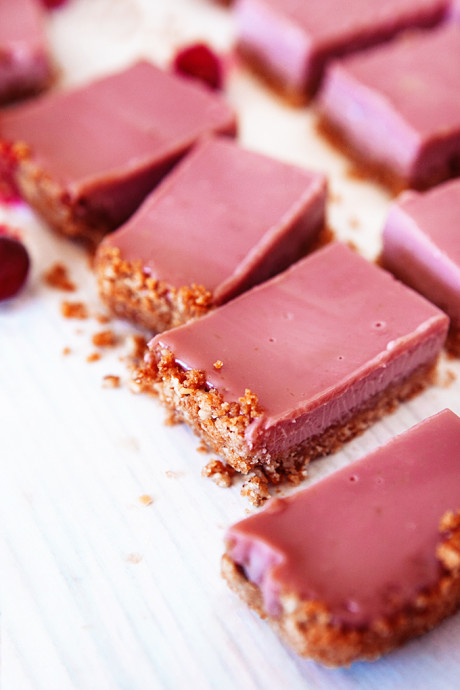 These Easy Cranberry Bars are simple to make and fun to eat. With a rich creamy cranberry filling and a buttery pecan graham cracker crust, these make a bright, delicious dessert.
I know Spring is only one hot second away (and believe me, no one is happier about that than me) but I am still doing the cranberry thing around here. Cranberries at my house are on the menu year round. When cranberry season arrives, I buy ALL the bags of fresh cranberries to freeze and use all year long. There's also cranberry juice and dried cranberries in the mix too. I just really love cranberries.
These particular Cranberry Bars aren't really season specific anyway. The cranberry flavor is mild (but look at that color!) and a buttery graham cracker crust is going to be a hit no matter what time of year you serve it. The texture of these Cranberry Bars is a cross between a custard and a cheesecake. It's a little bit softer than cheese cake, but firmer than custard or pudding. The rich, creamy cranberry filling is exactly what you should pour inside a crunchy pecan and graham cracker crust. It's a delicious combination of both flavors and textures. The Cranberry Bars are very sweet, but that's not a bad thing. It just means that an 8×8 pan can easily make 16 to 20 servings because you can cut them into small squares. Each little square packs a big punch – a little morsel of sweetness.
Ingredients:
4 tablespoons butter, melted
⅔ cup finely chopped pecans*
1 cup graham cracker crumbs (4 oz of graham crackers, or a little less than 1 package)*
2 tablespoons sugar
1 tablespoon orange zest
2 large egg yolks
1 can (14 oz) sweetened condensed milk
½ cup Unsweetened cranberry juice (not a cocktail blend)