Carrot Cake with Cream-Cheese Frosting & Nuts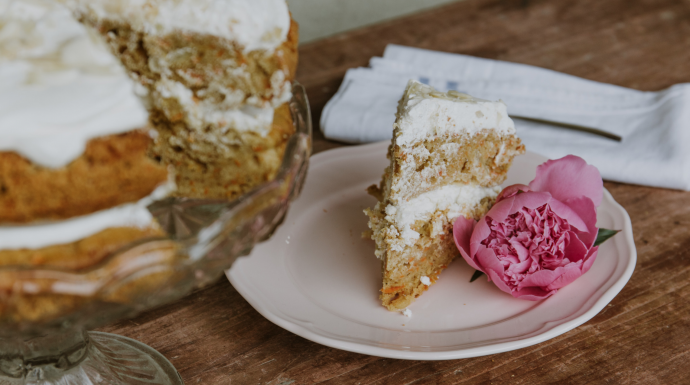 Carrot cake never goes out of style and just one bite will tell you why. This perfectly spiced, super moist cake bursting with vitamin-packed carrots, toasted nuts and lots of homemade cream cheese frosting is truly addictive! And this cake is also less fussy than many other layer cakes, making it ideal for beginners. I think it's the frosting that makes the cake so moist and delicious. So, don't be shy when spreading the frosting over the cake, be generous to use up all of it! And you can also make muffins instead of a cake with this recipe! Let's begin!
Ingredients
1 1/2 cups all-purpose flour
2 tsp baking powder
1 tsp baking soda
2 1/2 tsp cinnamon
1/2 tsp salt
1/2 tsp nutmeg
1 1/2 cups dark brown sugar
1 cup canola oil
3 large eggs
1/4 tsp vanilla
1 cup carrot, shredded (1 large carrot)
3/4 cup walnuts or 3/4 cup pecans, chopped
1/2 cup golden raisin
8 oz cream cheese, softened
1 tbsp milk
1 tsp vanilla
3 cups powdered sugar
1/3 cup walnuts or 1/3 cup pecans, chopped
Directions
Step 1
Preheat oven to 350° F.
Step 2
Spray 8 or 9 inch pan with nonstick cooking spray and dust it with some flour. Set aside. Set out the cream cheese, so that it may soften while you make the batter.
Step 3
In a large bowl, sift together flour, baking powder, baking soda, cinnamon, salt, nutmeg and all spice.
Step 4
In another bowl, combine brown sugar and oil with a handheld or stand mixer fitted with a paddle attachment on medium speed. Add the eggs and vanilla and beat well. Roughly chop walnuts and pecan nuts, lightly roast them. Mix in shredded carrot, nuts, and raisins. Combine the wet mixture with the flour mixture until smooth. Do not overmix!
Step 5
Pour the batter into a baking pan that has been generously greased already.
Step 6
Bake for 55 to 60 minutes or until a toothpick stuck in the center comes out clean. Do not over bake, as it will dry out cake. Allow the cake to cool completely afterwards.
Step 7
Make the frosting by mixing soft cream cheese, milk, and vanilla in a large bowl with a mixer. Add the powdered sugar, one cup at a time, and blend well until frosting is smooth. Add in 2 tablespoons heavy cream, vanilla extract and beat on medium speed for another 2 minutes. If required, add more powdered sugar till you get the desired thickness. Add a pinch of salt and mix to cut the sweetness. Cover and chill in a refrigerator until firm for at least 30 minutes.
Step 8
When the cake has cooled, frost the top with the cream cheese frosting. Sprinkle the pecans over the frosting. Slice and serve.
Tips
Cover up tightly and store frosted cake in the refrigerator for up to a week.
You can freeze frosted or unfrosted cakes up to 2 months.
Unfrosted cake remains fresh at room temperature for 3 days.
Bon appétit!