Chocolate Budino with Candied Maple Walnuts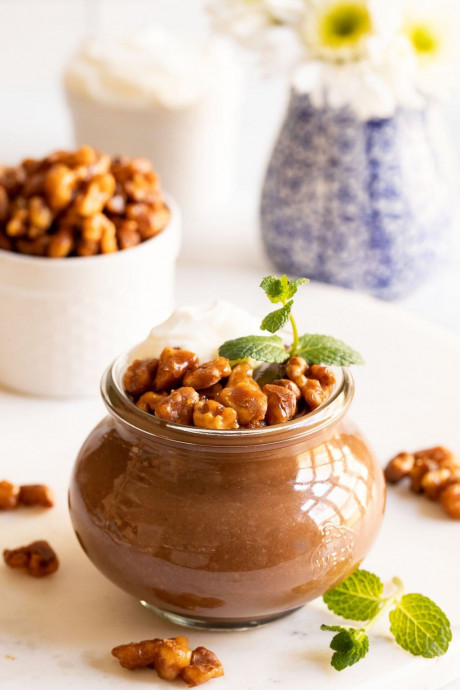 This impressive but easy Chocolate Budino is a creamy Italian-inspired dessert that takes pudding to a whole new level. You'll fall in love with the first silky smooth bite! If you're looking for a fabulous, beautiful, impressive dessert that can be put together in less than 20 minutes (hands-on time), this Chocolate Budino is the name of your game. And the super-easy candied maple walnut topping is the crowning glory! If you've never had budino, you've been missing out on an incredibly delicious dessert that will be sure to be super popular with family and friends.
Budino is a rich, creamy, silky-smooth Italian-inspired dessert that looks similar to an all-American chocolate pudding. But looks are where the similarity stops. One tiny taste of this decadent, restaurant-quality, dessert will reveal the stunning difference. This is definitely a recipe you'll want to have in your dinner-party-worthy-everyday-easy arsenal! You can definitely enjoy this chocolate budino as is or with a simple dollop of whipped cream but the candied maple walnuts are crazy delicious, ridiculously easy to make and are truly the crowning glory, adding a delightfully crisp, contrasting texture to the rich, creamy budino. A fun serving suggestion is to present this chocolate budino to guests with separate bowls of candied walnuts and whipped cream. Add a few mint sprigs then let them make their own pretty desserts.
Ingredients:
For the budino:
8 ounces bittersweet or semisweet chocolate see Café Tips
2 cups heavy cream or half and half
⅓ cup sugar
6 large egg yolks
½ teaspoon kosher salt
whipped cream for serving
For the candied walnuts:
1 tablespoon melted butter
¼ cup pure maple syrup
¼ teaspoon kosher salt
1 cup coarsely chopped walnuts