Crunchy Roasted Chicken With Mustard Sauce + Herb Butter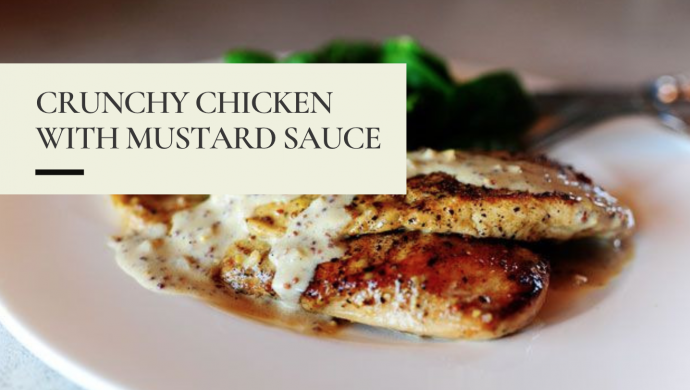 If you want the crunch of fried chicken without the fuss of cooking big pieces, you have to try this quick, simple recipe. My technique for cutting chicken steaks gives both white and dark meat and makes for a hearty serving. This all-season dish is perfect with simply blanched vegetables. Now it's the best time to serve it with seasonal veggies. In winter, I usually serve it with broccoli; and in spring – with beans. And the homemade mustard sauce is always a perfect companion here.
Ingredients
5 tablespoons Dijon mustard
3½ tablespoons fresh lemon juice
1 large egg yolk
½ teaspoon Tabasco sauce
Sea salt and freshly ground black pepper
⅔ cup grape seed or other neutral oil, plus more for frying
¼ cup extra-virgin olive oil
2 whole (2½-pound) chickens
Cornstarch, as needed
2 tablespoons Herb Butter (recipe follows)
Fresh tarragon leaves, for garnish
Directions
Step 1
Preheat the oven to 450°F.
Step 2
Combine the mustard, lemon juice, 2 tablespoons water, the yolk, Tabasco, and 1 teaspoon salt in a blender. Puree until smooth. With the machine running, add both oils in a steady stream and blend to emulsify.
Step 3
Make boneless chicken steaks, removing the breast and thigh from each side in a single piece without any bones; the two parts will be connected by skin and a little meat.
Step 4
Generously season the chicken on both sides with salt and pepper. Dust with cornstarch to coat, shaking off excess.
Step 5
Fill a large skillet with grapeseed oil to a depth of ¼ inch. Heat over high heat until almost smoking. Working in batches, add the chicken, skin side down, and cook until golden, about 2 minutes.
Step 6
Transfer to a baking sheet, skin side up. Repeat with the remaining chicken, then roast in the oven until crunchy and the meat between the tender and breast is just a little rosy, about 11 minutes.
Step 7
Transfer to a serving platter and top each portion with ½ tablespoon herb butter. Garnish with tarragon. Serve right away with the mustard sauce.
Herb Butter
This simple blend of high-quality butter and fresh fines herbes goes with everything. You can even use it to butter good bread. I especially like it on vegetables and fish.
Ingredients
10 tablespoons unsalted butter, preferably cultured, at room temperature
Grated zest of 2 lemons
1 tablespoon finely chopped fresh tarragon leaves
1 tablespoon finely chopped fresh chervil leaves
1 tablespoon finely chopped fresh parsley leaves
1 tablespoon minced fresh chives
1 teaspoon sea salt
Directions
In a large bowl, stir together the butter, zest, tarragon, chervil, parsley, chives, and salt until well blended. Transfer to a sheet of plastic wrap and form into a log. Wrap tightly and refrigerate until firm. The butter can be refrigerated for up to 1 week.
Bon appétit!