Roasted Sea Bass with Fennel, Meyer Lemons, and Cherry Tomatoes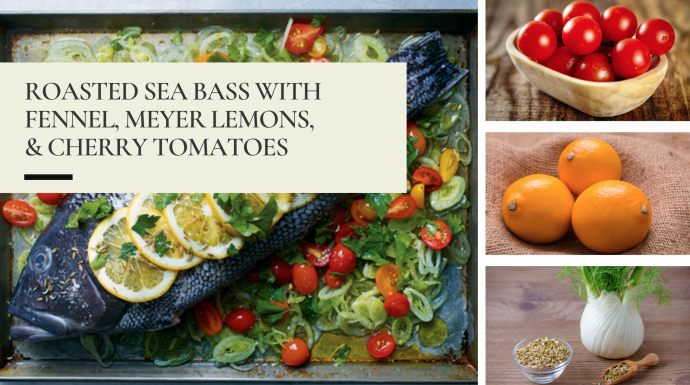 There is something so celebratory about serving one whole fish, fragrant with citrus and fennel, for everyone to dive into. Any fish on the bone works here—whole red snapper or salmon steaks would also be good choices—but I especially love the sea bass. Set on a bed of fennel and smothered with tart-sweet Meyer lemons and cherry tomatoes, the fish absorbs all those flavors while it steam-roasts in dry white wine. I love the distinctive citrus aroma of Meyer lemons, but you can use regular lemons here, too. All it really needs is a green salad and some good bread, but these wine and cherry tomatoes are completely delicious and make it that bit more special.
Ingredients
1 whole black sea bass (about 4 pounds), gutted and scaled
Extra-virgin olive oil
2 fennel bulbs, cored and sliced paper-thin
2 teaspoons fennel seeds
Sea salt and freshly ground black pepper
1 pint cherry tomatoes, halved
2 Meyer lemons, cut into very thin slices
½ cup chopped fresh flat-leaf parsley leaves
Directions
Step 1
Preheat the oven to 400°F.
Step 2
Coat the bottom of a large roasting pan with oil. Arrange the fennel in an even layer to cover the bottom of the pan. Sprinkle the fennel seeds over the fennel and season with salt and pepper.
Step 3
Center the fish on top. Season the fish inside and out with salt and pepper. Scatter the tomatoes around the fish. Cover the fish with the lemon slices and parsley. You can also pour some white wine around the fish and season everything with salt and pepper.
Step 3
Roast until a knife pierces through the flesh of the fish with no resistance and the blade feels warm, about 30 minutes. Remove from the oven and let rest for 10 minutes. Serve the fish with an orange and fennel salad - a perfect summer delight.
Bon Appetit!