Cheesy Green Chile Breakfast Quesadillas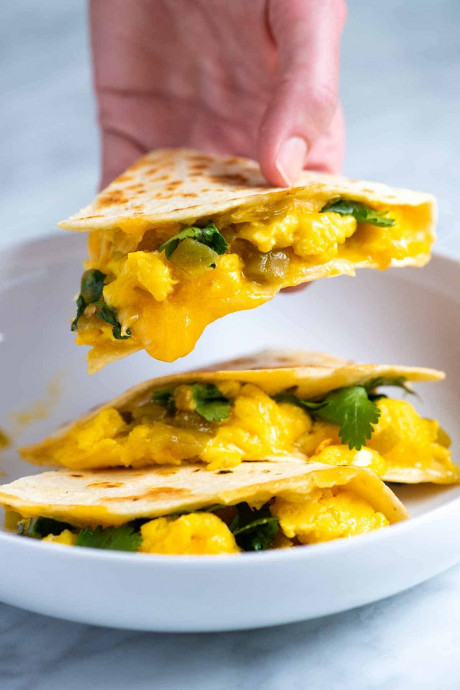 Breakfast quesadillas with soft scrambled eggs, green chiles, melted cheese and herbs. These are made quickly and taste amazing! Quesadillas are made with tortillas — flour or corn — that are filled and folded while being cooked on a hot surface. Whatever is inside the tortilla heats up and, if there is cheese, it melts and the exterior of the tortilla becomes toasted. These breakfast quesadillas feature soft and creamy scrambled eggs dotted with green chilies and cheese. We use canned green chilies, which can be purchased as mild or hot, depending on your preference.
For the cheese, we use something that melts nicely. Monterey Jack is popular here in the United States, but if you can find them, queso de Oaxaca or queso asadero are amazing (both are mild, melting cheeses). These come together really quickly — the only preparation is to cook the eggs. You won't believe how simple our method for making scrambled eggs is. I honestly consider these be the best scrambled eggs. You can read all of our tips for making them here, but we shared the recipe below for you, too! When the eggs are cooked, you can make the quesadillas. A heavy-bottomed pan or skillet works nicely for cooking them — think cast iron pan, heavy stainless steel skillet. Serve with avocado or guacamole, green salsa like this roasted tomatillo salsa.
Ingredients:
2 medium to large flour or corn tortillas, see our homemade flour tortilla recipe
1/2 tablespoon butter
4 large eggs
1/8 teaspoon salt, or more to taste
3 ounces melting cheese like Monterey Jack, shredded (about 3/4 cup)
1 (4-ounce) can diced green chilies, hot or mild, depending on preference
4 to 5 sprigs fresh cilantro
Spray oil or oil brushed onto pan