Raspberry Bakewell Cake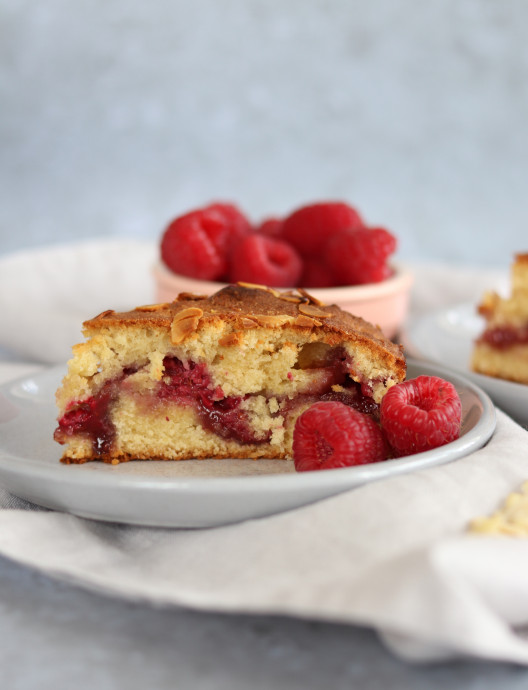 This Raspberry Bakewell Cake is packed with fresh raspberries and jam. The delicious flavor of almonds goes perfectly with the raspberries making such a tasty cake. Bakewell is a traditional British dessert that is usually served in the form of a tart. There is usually a pastry tart case filled with an almond sponge and berries. This cake incorporates all of the delicious flavors but in cake form rather than a tart. I love using jam in cakes. Not only is it great for when the fresh fruit isn't in season, it also adds extra moistness to the cake.
The original recipe which I tweaked didn't have the jam. I made it with and without and definitely preferred it with the jam. if you're making a Raspberry Bakewell Cake you want as much raspberry goodness as possible surely?! This Raspberry Bakewell Cake is simple to make. I like to arrange the raspberries into a pattern when I make this cake, but if you have better things to be doing with your life just scatter them in! You can serve it as it is or with a couple of fresh raspberries and it is perfect for any occasion.
Ingredients:
140 g margarine
140 g caster sugar
140 g ground almonds
140 g self-raising flour
2 eggs
1 tsp vanilla extract
¼ tsp almond extract
150 g raspberries
100 g raspberry jam
2 tbsp flaked almonds