Cheesy Ranch Potato Gratin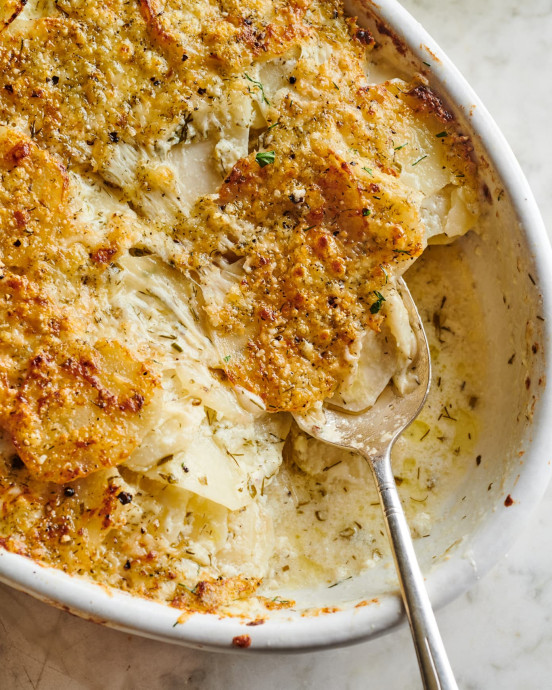 Choosing the greatest potato dish of all time is an impossible task. Frankly, there are far too many options and they're all irresistible. But choosing my favorite potato dish to make? That's an entirely different story, and the answer comes easily: a cheesy potato gratin.
Potato gratins are quick to prepare and always crowd-pleasers. But what I love most about them is that their simplicity allows for endless spontaneity: You can switch up the potatoes, cheeses, and spices however you fancy. Inspired by the flavors of ranch dressing, this zesty potato casserole is just as creamy and rich as the original, but a little bit tangier and far more herbaceous. When served warm and bubbling from the oven, it's nearly impossible to resist. Gratin's are typically made with milk, heavy cream, half-and-half, or a bechamel sauce. For this recipe, I added a heaping helping of sour cream to the heavy cream to add tanginess and extra creaminess.
Ingredients:
2 tablespoons unsalted butter
4 pounds large russet potatoes
6 ounces dill havarti cheese
2 ounces Parmesan cheese
4 cloves garlic
1 medium lemon
2 tablespoons finely chopped fresh chives
2 tablespoons finely chopped fresh dill
1 tablespoon finely chopped fresh parsley leaves
2 cups heavy cream
1 cup sour cream
2 1/2 teaspoons kosher salt
1/2 teaspoon freshly ground black pepper