Vermont Maple Cookies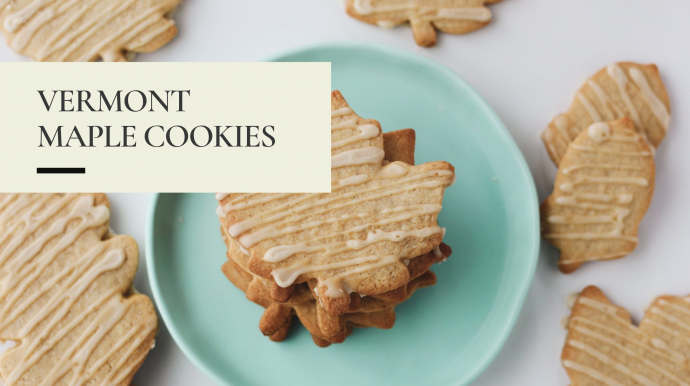 My friend Laura lives in Vermont, and she sent me the most delicious Vermont maple syrup for my birthday. After one taste, I was tempted to drink the whole bottle, but instead, I let it inspire this recipe! Maple extract enhances the flavor without adding extra sweetness, and can be purchased online or at your local restaurant supply store. If you've never tried maple extract before, I highly suggest doing so! Explore the recipe of the buttery and delicious maple flavored cookies, that will make a perfect accompaniment to a cup of coffee or tea.
Cookie dough can be made in advance and kept refrigerated for up to 1 week or frozen for up to 1 month.
Ingredients
3 to 4 tablespoons water
2 teaspoons pure maple extract
2 ½ cups all-purpose flour
1 cup sugar
½ teaspoon baking soda
1 cup margarine
For the filling
½ cup margarine (or butter)
1 ½ cups powdered sugar
½ teaspoons pure maple extract
1 to 2 tablespoons pure maple syrup
Directions
Step 1
Preheat oven to 350 °F. Line 2 or 3 large baking sheets with parchment paper.
Step 2
In a small bowl, combine 3 tablespoons water and maple extract. Set aside.
Step 3
In a food processor, combine flour, sugar, and baking soda. Add margarine and water mixture. Pulse until soft and doughy. If needed, add 1 more tablespoon water.
Step 4
On a lightly floured surface, roll the dough out until it is 1⁄4 inch thick, working with half the dough at a time. Using a 3-inch cookie cutter, cut out as many shapes as you can. You can combine any remaining scraps to roll and cut more cookies. If the dough gets too soft to work with, refrigerate it for 10 to 15 minutes.
Step 5
Place the shapes on the prepared baking sheets about 1⁄2 inch apart.
Step 6
Bake for 10 to 12 minutes until lightly golden around the edges. Let cool on the pan.
To make the filling: Using a handheld or stand mixer, beat the margarine until smooth. With the mixer running on low, add powdered sugar, maple extract, and maple syrup, as needed. Increase speed to high and beat for 2 more minutes until light and fluffy.
To assemble the cookies: Spread a layer of filling on the flat bottom side of a cookie. Place the flat bottom side of another cookie on top of the filling. Lightly press the 2 cookies together. Repeat with remaining cookies.
Bon appétit!