Sopapilla Cheesecake Bars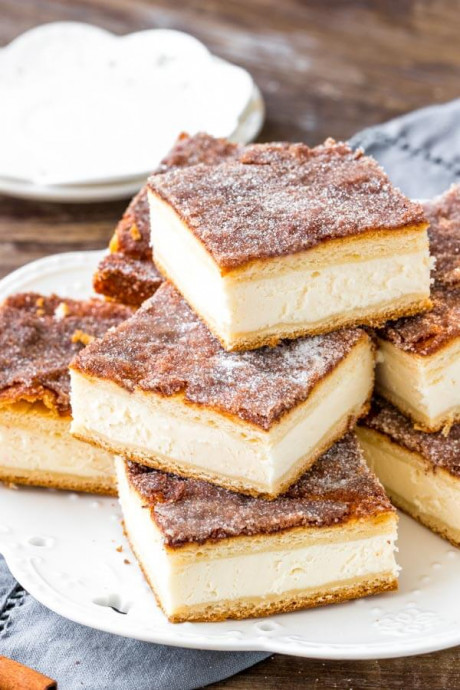 These sopapilla cheesecake bars have a thick layer of creamy cheesecake between 2 sheets of flaky pastry. Then they're topped with buttery cinnamon sugar. This version of sopapilla is made with only 8 ingredients – so it's quick, easy & oh so delicious.
Sopapilla cheesecake bars are a decadent cheesecake recipe that's perfect for cinnamon lovers. It also requires very little actually baking/ kitchen skills – so it's also very easy to make. Two layers of flaky pastry surround the creamiest cheesecake layer. Then a sprinkle of cinnamon sugar goes on top. You can thick of sopapilla cheesecake bars almost like the baby of a cinnamon sugar doughnut and New York cheesecake.
The sopapillas that most North Americans know and love are a traditional Hispanic dessert that's thought to have originated in Albuquerque, New Mexico. It's a deep-fried pastry that's often dusted with powdered sugar, sprinkled with cinnamon sugar or drizzled with honey. They can have a variety of different fillings, including both sweet and savory. When the pastry is fried it creates little air pockets and becomes pillowy soft. With flaky, buttery pastry, extra creamy cheesecake, and cinnamon sugar – what's not to love about sopapilla cheesecake bars? So easy, so delicious, and the perfect cheesecake recipe for a family breakfast.
Ingredients:
2 8 oz packages crescent rolls
24 oz cream cheese* softened
1 ¼ cups white sugar
1 tablespoon cornstarch**
1 teaspoon vanilla extract
1 large egg
¼ cup unsalted butter melted
2 teaspoons cinnamon