Parmesan Mashed Potato Cakes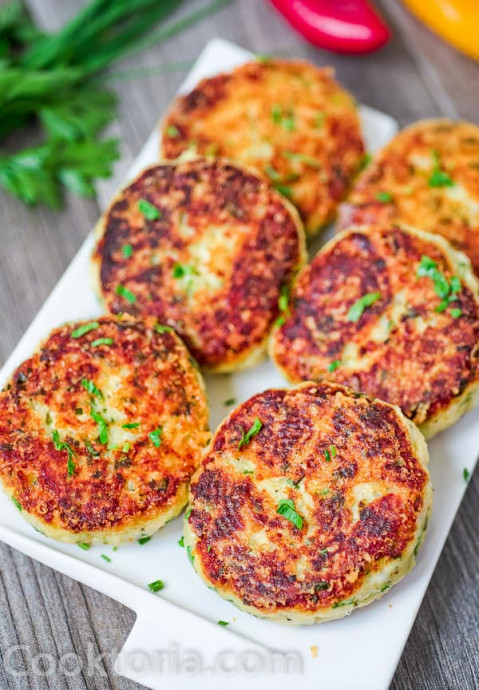 These Parmesan Mashed Potato Cakes are so addictive! A crunchy, cheesy crust is hiding the soft, velvety mashed potato filling. They make a perfect side dish or a filling vegetarian meal.
Of all the new recipes I've made recently, these Parmesan Potato Cakes are one of the biggest hits in my kitchen. This recipe is simple, requires little ingredients, and yields delicious results. You must try these, friend. These Parmesan Cakes are just the best! Adding Parmesan cheese and fresh herbs brings so much flavor to the dish, and dipping the cakes in Parmesan before frying them makes the golden crust even tastier and crunchier.
The ingredients are simple! I prefer to use boiled potatoes rather than leftover mashed potatoes in this recipe because, this way, I always end up with the same texture and consistency. A starchy potato, such as an Idaho or Russet potato, would be the best pick for this recipe. Yukon Gold makes great potato cakes, too. Sometimes, I like to leave some of the skin on if I'm using a Yukon Gold potato because I love the texture it adds to the cakes. Serve these with a spoonful of yogurt or sour cream on top for breakfast. Serve these with fish, chicken, meat, grilled vegetables, or tofu on the side.
Ingredients:
2 large potatoes about 1 lb.
1 egg
1 cup grated Parmesan + extra 1/2 cup for dredging
1/4 cup chopped parsley
1/4 cup chopped chives or scallion
1/4 cup all-purpose flour
1/2 tsp. salt or to taste
1/2 tsp. pepper or to taste
3 tbsp. olive oil for frying