Creamy Chicken Florentine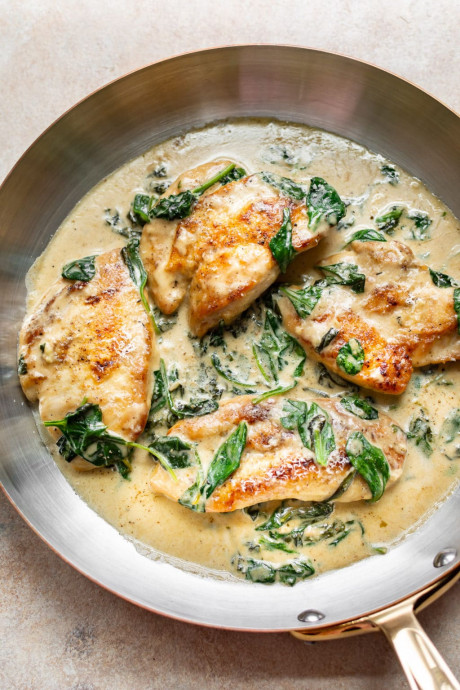 This Creamy Chicken Florentine recipe has tender pan-fried chicken coated in an amazing garlic spinach white wine cream sauce! What is Chicken Florentine? The "Florentine" style in cooking generally indicates that the dish has spinach in it. It's reminiscent of how certain recipes are prepared in Florence, Italy. This creamy spinach chicken recipe is great for a fancy-ish weeknight dinner (or date night). You can enjoy the rest of the white wine while it cooks. If your usual chicken breast routine is starting to feel a little ho-hum, this simple recipe is sure to shake things up. Perfectly seared chicken breasts are nestled into a decadent cream sauce that's bolstered by mushrooms and spinach, making it a simple, saucy meal that can be yours in just about 30 minutes. And trust me — the whole family will be clamoring for every last bite at the dinner table.
This easy recipe doesn't hold back on the cheesy cream sauce. However, it shows no restraint when it comes to the amount of vegetables, either. Almost a whole bag of baby spinach and over a half-pound of mushrooms are involved here. Oh, and to soak up every creamy bite, serving this over cooked rice or pasta, or simply with crusty bread is well worth your while.
Ingredients:
2 large chicken breasts cut in half lengthwise
1/2 teaspoon garlic powder
Salt & pepper to taste
Flour for dredging
1 tablespoon olive oil
2 tablespoons butter divided
3 cloves garlic minced
1/2 cup dry white wine
1/4 cup chicken broth
1 pinch Italian seasoning
1 cup heavy/whipping cream
2 cups (loosely packed) fresh baby spinach
1/2 cup freshly grated parmesan cheese