Mini Lemon Hand Pies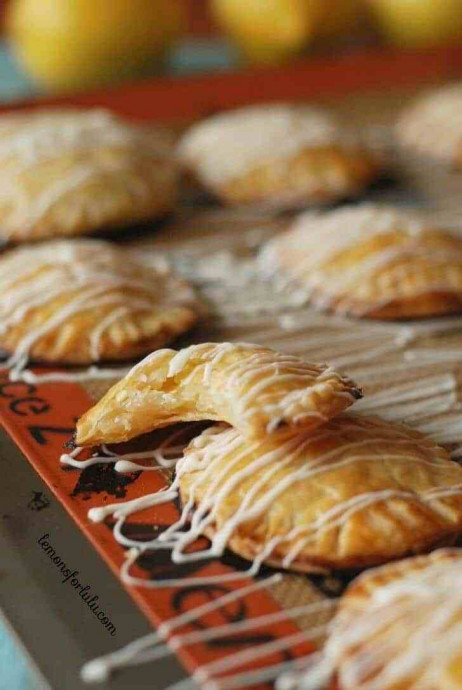 Mini lemon hand pies are buttery and flaky pie dough, shaped into single-sized portions and filled with homemade lemon curd!
Hand pies are small pastries that can either have a sweet or savory filling. The dough is folded over the filling and crimped until sealed. Hand pies can be baked, fried, or deep-fried. This recipe starts by making homemade lemon curd. Lemon curd (made with eggs, sugar, and lemon juice) is so easy and has so many uses. I have a post with a video on how easy it is to make lemon curd at home! The recipe is made simple by using pre-made pie dough. You could easily make this recipe using puff pastry, filo dough, crescent roll dough or biscuit dough if you prefer.
Jarred lemon curd can be used in place of homemade, but homemade really does taste so much better! Chilling the dough makes the dough easier to work with, it keeps the dough buttery and prevents the dough from shrinking during baking. The egg wash will help the pies turn a nice golden color. These pies can be served warm or at room temperature.
Ingredients:
1/2 cup sugar
2 eggs
1 lemon zested
1/2 cup lemon juice
1/4 cup melted butter
1 14.1 package refrigerated Pillsbury Pie Crust
1 whole egg
1 tablespoon water
1/3 cup white chocolate chips
1/8 teaspoon vegetable oil