Caramel Pecan Cinnamon Rolls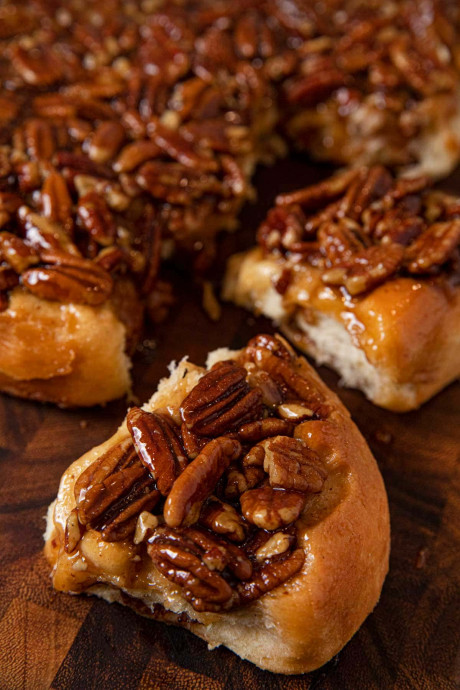 Caramel Pecan Cinnamon Rolls are the best sweet, gooey sticky buns recipe! Easy homemade dough with cinnamon sugar filling, rich caramel sauce, and pecans. These Caramel Pecan Cinnamon Rolls are a gooey, sticky bun with cinnamon filling smothered with homemade brown sugar caramel sauce and tons of pecans. They are easy to make and ready in just over an hour for an extra special breakfast that wows! Bake Caramel Pecan Cinnamon Rolls for a holiday dessert or brunch treat, or gift a pan of warm sweet buns to friends and family.
Gooey, delicious Caramel Pecan Cinnamon Rolls are baked a little different than our regular cinnamon roll recipes, with the frosting baking with the rolls on the bottom. They puff up into pillowy soft sweet rolls like normal, then you flip the pan after they are baked and let the sticky caramel topping ooze down the warm buns. It's a sugary, crunchy twist on a favorite bakery treat.Just because they already have a pecan caramel frosting, doesn't mean you can't add even more sweet toppings for dessert! Top these Caramel Pecan Cinnamon Rolls with Vanilla Ice Cream and Salted Caramel Sauce for a decadent sugary dessert. Drizzle the Pecan Caramel Rolls with Chocolate Ganache after they've cooled for a chocolatey, caramel bite that's out of this world!
Ingredients:
Caramel Pecan Topping:
1 cup brown sugar , packed
1/2 cup unsalted butter , softened
1/4 cup light corn syrup
2 cup pecan halves , roughly chopped
Cinnamon Roll Dough:
2 cups whole milk
1/2 cup butter , room temperature
6 1/2 cups all-purpose flour , divided
1/2 cup sugar
1 teaspoon salt
2 packets instant rapid rise yeast
2 large eggs
Cinnamon Roll Filling:
1 cup sugar
3 tablespoons ground cinnamon
1/2 cup butter , room temperature