Scalloped Potatoes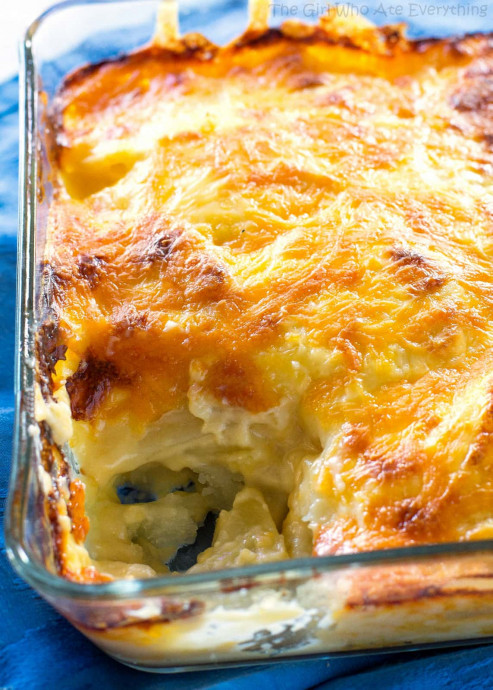 Scalloped Potatoes are a classic dish with layers of potatoes and rich creamy cheese sauce on repeat! The ingredients are simple in these Scalloped Potatoes recipe but they are the perfect from scratch side dish to Easter, Christmas, or Thanksgiving! These Scalloped Potatoes with cheese, ask me whatever you want about them. They're fabulous by the way. And that's coming from someone who loves her mashed potatoes.
The most important thing in scalloped potatoes is to make sure you slice them thin. No one wants to bite into a thick potato. Do they? I sure don't. The ingredients in scalloped potatoes are very simple and traditional. Potatoes – Yukon or Russet potatoes are best for this dish. Butter, flour, and milk – For your roux, these ingredients make the base of a creamy sauce. Salt and Pepper – are essential to flavor this dish. Cheddar cheese – I like a sharp cheddar cheese because it gives the dish a lot of flavor. You could definitely use any cheese you like. Paprika – mostly use for color but adds a little flavor. I prefer Yukon gold or Russet potatoes for this dish. Yukon potatoes tend to hold their shape better and don't need to be peeled but Russets work well too.
Scalloped potatoes are traditionally in a creamy sauce whereas potatoes au gratin have a crunchy breadcrumb topping.Scalloped potatoes are great with ham or turkey, served with a green salad or side such as asparagus or broccoli.
Ingredients:
4 cups thinly sliced potatoes, (Yukon Gold or Russet; about 2 pounds give or take)
3 tablespoons butter
3 tablespoons flour
1 1/2 cups milk
1 teaspoon salt
1 dash cayenne pepper
1 1/2 cups grated sharp cheddar cheese , divided
paprika