Nutella Cheesecake (No-Bake!)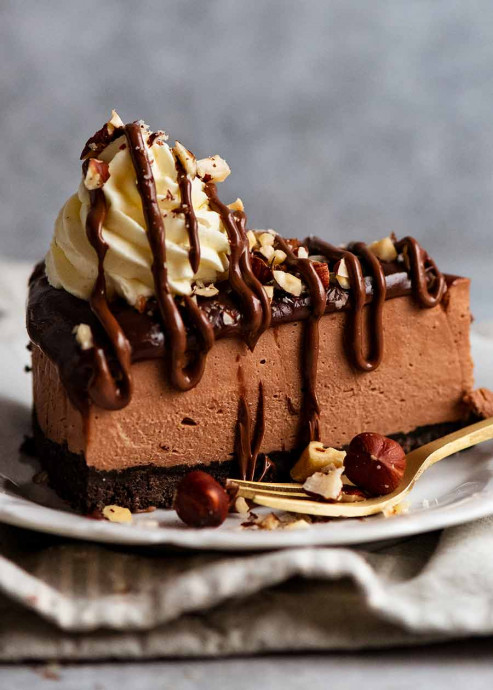 What's the best way to inject the distinctive choc-hazelnut flavor of Nutella into a Nutella Cheesecake? Make it no-bake. It's the secret to preserving the Nutella flavor. Of course, a triple punch of Nutella also helps here: in the mousse-y cream cheese filling, the ganache topping and a good melty drizzle of the stuff to finish it off!
Sounds indulgent? That would be because it is. This cake is not for faint hearts and weak arteries. It's for serious Nutella lovers only! I'm a little fussy about my cheesecakes. In the past I've publicly declared that baking is the one and only way to achieve a light-and-still-rich-but-not-overly-so cheesecake that ticks all the right boxes. It's a pretty cake just as it is, but we can bling it up further with a few finishing flourishes! First, whip up some cream and pipe blobs around the rim.
Then warm up a little bit of Nutella, so it's pourable and drizzle it across the cream. You can do this either using a small bowl and a teaspoon, or a little ziplock bag – just snip the corner. No need to get too caught up in perfection on this step. A casual drizzle is the phrase I use! If you want to get technical, I did a drizzle in a criss-cross pattern across the cream. While you could do it across the Nutella Ganache too, you can't really see it, so there's not a lot of point!
Ingredients:
200g/ 7oz Oreo cookies
60g / 4 tbsp unsalted butter , melted
3 tsp gelatine powder
1/4 cup water
500g / 1 lb cream cheese , softened
1/2 cup soft icing sugar / powdered sugar
1 cup Nutella
1 cup heavy/thickened cream
1/2 cup heavy/thickened cream
1/2 cup Nutella
1/4 cup dark chocolate chips/semi-sweet chocolate chips
1/4 cup hazelnuts , lightly toasted then chopped
1/2 cup heavy/thickened cream (for whipping)
3 tbsp Nutella , warmed