Almond Crescents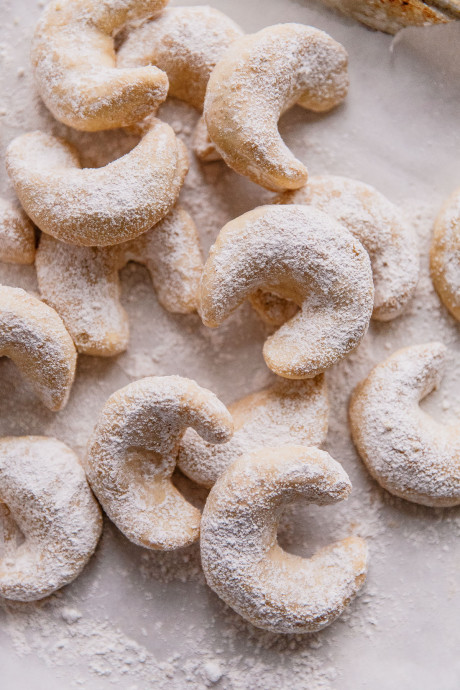 Almond Crescent Cookies – these traditional Austrian kipferl cookies are one of my favorite holiday cookies and take almost no time to prepare! Today's almond crescent cookies are fabulous because they are just as elegant, yet so much simpler to prepare. Let's face it, sometimes we just need quick and easy during the craziness of the holiday season!
You'll need to reserve 30 minutes of chill time. However, you'll be able to have these cookies prepped, baked, and ready to go in just over an hour.
Luckily, we're not sacrificing any flavor with these cookies. These crescent cookies are crisp, buttery, and quite hard to resist. I learned how to make these traditional Austrian cookies in culinary school years ago and loved them. Almond crescent cookies are made from a simple mixture of butter, all-purpose flour, almond flour, powdered sugar, vanilla, and salt. To enhance the natural almond flavor, pure almond extract is included too! Once baked, the still-warm almond crescent cookies are dipped and coated in powdered sugar. I like to add a touch of ground cinnamon to my powdered sugar, but ground cardamom or other baking spices could easily be substituted.
Ingredients:
2 sticks (8 ounces; 230 grams) unsalted butter, softened
2 cups (240 grams) unbleached all-purpose flour
1 cup (100 grams) Almond Flour
1/2 cup (60 grams) powdered sugar
1 teaspoon kosher salt
1 teaspoon vanilla bean paste (or pure vanilla extract)
1/2 teaspoon pure almond extract
1 cup (120 grams) powdered sugar, sifted
1/2 teaspoon ground cinnamon