Easy Corn Casserole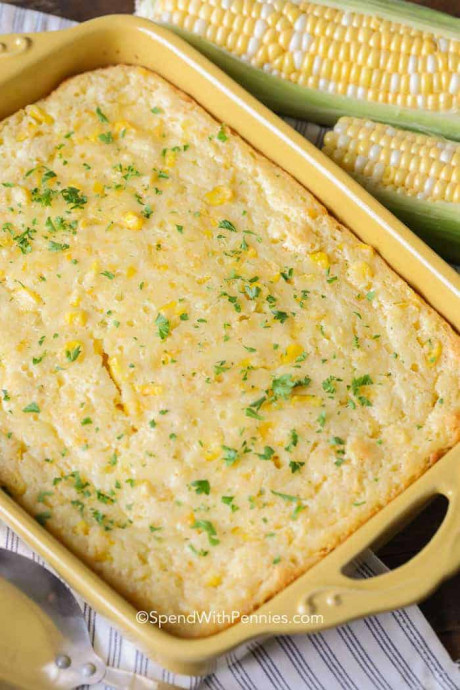 This easy Corn Casserole is one of our favorite side dishes. Prep is extra fast using a cornbread mix and stirring in creamed corn, fresh herbs, and butter then baked until golden.
Serve this side dish at any holiday table or really any day you just want some good ol' comfort food. This recipe can be made ahead of time and baked. Cool completely and then cover with plastic wrap and refrigerate up to 2 days.
To reheat if baked ahead of time, allow the casserole to sit at room temperature for 30-60 minutes. Bake at 350°F for 15-20 minutes or until heated through. To freeze, bake the casserole as direct and cool completely. Wrap tightly and freeze up to 3 months. Thaw in the fridge overnight and warm in the oven before serving. I like to add a little butter on top as it comes out of the oven, and some parsley for added color. Add in your favorites including: cheese, herbs, bacon, jalapenos. The cooking time can vary slightly but 2-3 hours on high should work. Once it is cooked, just unplug the slow cooker or set it to warm.
Ingredients:
½ cup butter melted
2 eggs
1 package Jiffy Corn Muffin Mix
2 cups corn canned or frozen, drained
1 can creamed corn
1 cup sour cream
Optional Add-Ins
2 tablespoons onion or jalapeno peppers, minced
1 cup sharp cheddar cheese shredded, optional
crumbled bacon