Easy Chicken Shawarma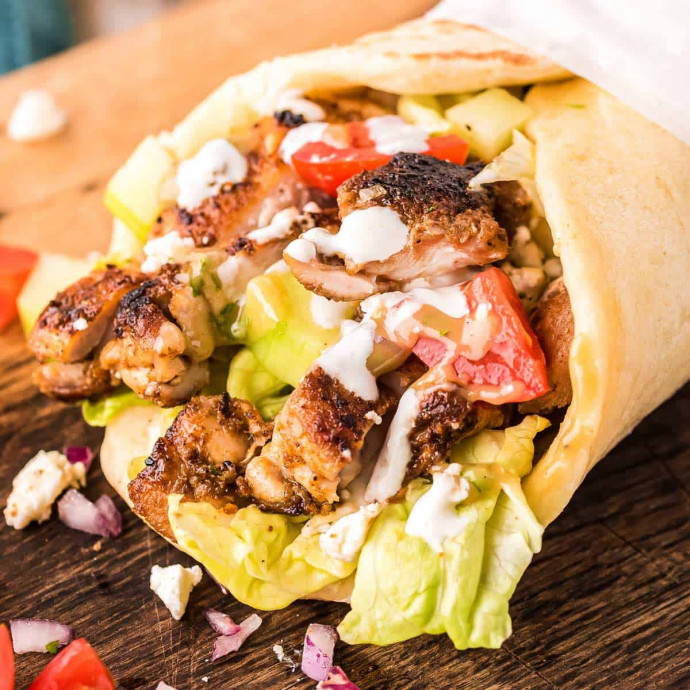 This Easy Chicken Shawarma is perfect for grilling season! The chicken is bathed in an aromatic Middle Eastern inspired marinade, then grilled/cooked to charred perfection. It's perfect in wraps and drizzled with either a tangy yogurt or tahini sauce!If you've never had chicken shawarma before; let me just say, you're in for a treat! Completely perfect if you've been in a dinner rut and are tired of making the same chicken dishes over and over again.
It's a popular Middle-Eastern food, traditionally made by roasting big cones of meat on a rotating vertical spit, but you can get very close to those delicious flavors right at home, with no special equipment needed.
We love chicken shawarma because it's so easy to make, and the flavors are just incredible. Plus, it's really versatile!
The chicken is fabulous on it's own, on a flatbread, in a pita, in a naan bread wrap, in a salad, and more! We like to serve it with hummus (homemade or store bought), basmati rice, naan bread (or a pita), fresh cilantro, and a fresh salad.
Ingredients:
2 lbs boneless skinless chicken thighs
Marinade
3 Tbsp olive oil
2 Tbsp lemon juice
zest of 1 lemon
2 cloves garlic minced
1 Tbsp ground coriander
1 Tbsp ground cumin
1/2 Tbsp ground cardamon
2 tsp smoked paprika
1 tsp salt
1/2 tsp Black pepper
1/2 tsp cayenne pepper or to taste
Yogurt Sauce
1 cup plain Greek yogurt or sour cream if you prefer
1 clove garlic finely minced or grated
1 1/2 Tbsp grated peeled cucumber
1 tsp cumin
1 Tbsp lemon juice
1/4 tsp kosher salt
1/4 tsp black pepper
Tahini Sauce
2 Tbsp tahini paste stirred well before measuring
1 1/2 Tbsp olive oil
1 1/2 Tbsp water
1/2 small shallot finely minced
1 clove garlic finely minced or grated
1 Tbsp lemon juice
1 Tbsp minced fresh parsley
1 tsp lemon zest
1/4 tsp kosher salt
1/4 tsp black pepper
pinch of crushed red pepper flakes