Watergate Pistachio Cake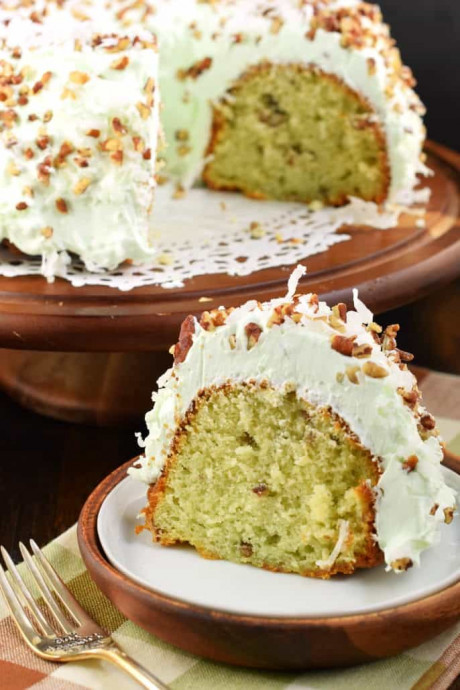 Watergate Bundt Cake is nutty and moist thanks to pistachio pudding and pecans. Topped with a sweet, light whipped cream topping and coconut, this pistachio bundt cake has it all! If you've never had a Watergate Cake you are truly missing out! It's a vintage classic and one of the most popular recipes on my site, for a good reason.
This beautiful cake covered in nuts and coconut with a creamy whipped frosting is a classic. Today, I'm showing you how to make it in bundt cake form! I remember the first time I tasted this kind of pistachio cake many years ago. It looked weird, all green and covered in nuts, I seriously thought "this is an old person type of cake." One bite in and I realized I was wrong. Well, maybe I was right and it IS an old person type of cake. But it's a delicious old person cake!
The moist cake made with pistachio pudding is incredible. The light "frosting" made with Cool Whip or homemade whipped cream is the perfect finish to the nutty dessert. Of course, I love adding the chopped pecans and coconut flakes to the top of the cake for that extra delicious crunch!
Ingredients:
For the cake:
1 box white cake mix
1 cup canola oil
1 package (3 oz) instant pistachio pudding mix
1 cup lemon-lime soda (sprite, sierra mist, etc)
3 large eggs
½ cup chopped pecans
For the topping:
1 cup skim milk
1 package (3 oz) instant pistachio pudding mix
1 tub (8 oz) Cool Whip, thawed
½ cup chopped pecans
1 cup sweetened shredded coconut