Spaghetti Squash Shrimp Scampi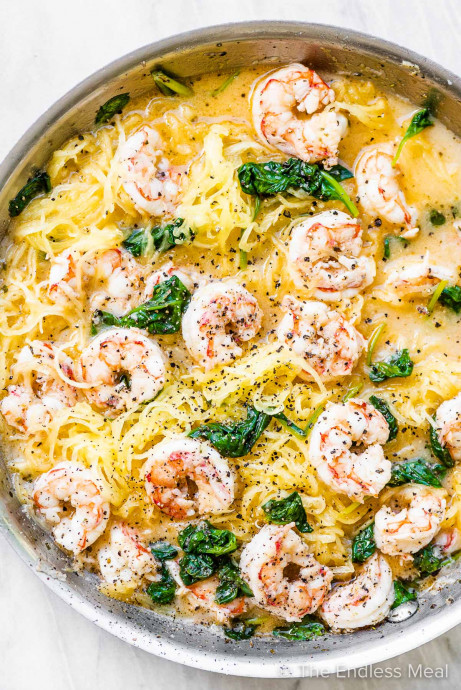 Spaghetti Squash Shrimp Scampi is a delicious dinner made with saucy garlic lemon shrimp tossed with noodle-like spaghetti squash. It's a simple and healthy recipe that everyone loves! I am a big fans of easy, healthy, and delicious dinners around here. And this one checks all the boxes. The shrimp are gently poached in a super flavorful lemon garlic sauce. It's nontraditional, but we add a little spinach for a pop of color and bonus nutrition. Then the tender shrimp and the tasty sauce are poured over spaghetti squash, and just like that, you have dinner!
Spaghetti squash makes excellent healthy noodles, but if you prepare it the usual way (by cutting the squash in half), then you end up with short little pieces. This is an all in one meal that doesn't need a side dish. If you are feeling quite hungry, a slice of no yeast bread with herbs and cheese is excellent for mopping up some of the sauce. Cooked shrimp will last for three days in your fridge while cooked spaghetti squash lasts for one week. If you are planning on storing leftovers, it is best to keep the spaghetti squash and shrimp separate, or the sauce can make the noodles go a little too soft.
Ingredients:
1 medium spaghetti squash (about 2 lbs.)
1 ½ lb. peeled shrimp
1 teaspoon Italian seasoning
¼ teaspoon each: salt and pepper
4 tablespoons butter
4 garlic cloves, minced
½ cup white wine or chicken stock
1/4 cup fresh lemon juice (from 1 lemon)
2 ounces baby spinach