Taco Stuffed Acorn Squash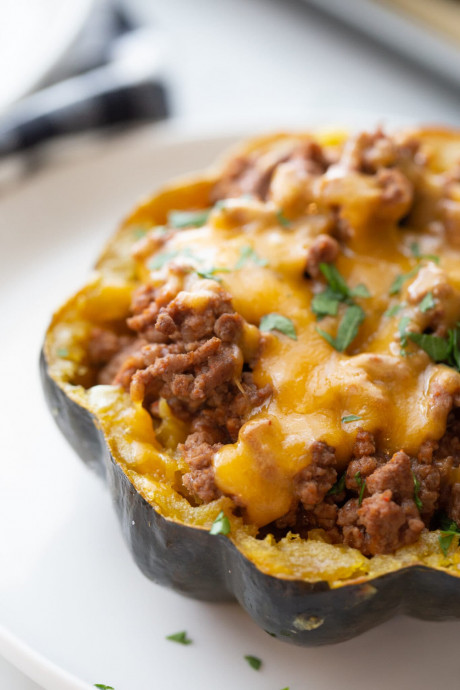 This Taco Stuffed Acorn Squash is the perfect, easy-to-prep, budget friendly and gluten-free Fall dinner or lunch. Make it even easier (and faster!) by using freezer taco meat and prepping your roasted acorn squash in advance! This post contains affiliate links for products I'm obsessed with. This Taco Stuffed Acorn Squash Recipe might be my new favorite Stuffed Squash recipe. And if you are sitting here wondering how Tacos and Acorn Squash go together, I want you to know I understand your skepticism. And this bowl of deliciousness is so easy to make, budget friendly, family friendly, and perfect for Meal Prep! You only need a few simple ingredients to make the Taco Filling for your Roasted Acorn Squash.
Lean ground beef – I love Butcher Box Grass Fed Ground Beef, but you could sub ground chicken or ground turkey, too. If you want to make a vegetarian or vegan version, sub quinoa or brown rice! Tomato Sauce – you want the canned sauce, not the jarred. Salt free taco seasoning – this is another thing to prep a batch of on meal prep day and keep on hand for whenever you need it. Sharp cheddar cheese – you can also swap dairy free cheese or leave off the cheese and this will still be delish! If you aren't a fan of cheddar, use whatever cheese you like here. Corn + Black beans (optional – omit for no yellow) – I had some on hand, so I added them to my Taco Meat, but you could definitely leave them out if you want a lower carb, or no-yellow meal. You can freeze it stuffed or freeze the taco filling separately. This makes for a quick, single serve lunch or dinner.
Ingredients:
2 large acorn squash
1 tsp olive oil
1 1/2 lbs lean ground beef – I love Butcher Box grass fed beef (can sub 99% turkey for WW)
1 cup of tomato sauce
1–2 T of salt free taco seasoning
⅔ cup of sharp cheddar cheese
1/2 cup of corn (optional – omit for no yellow)
1/2 cup of black beans (optional – omit for no yellow)
¼ tsp salt
garnish – cilantro