Jelly Filled Donut Holes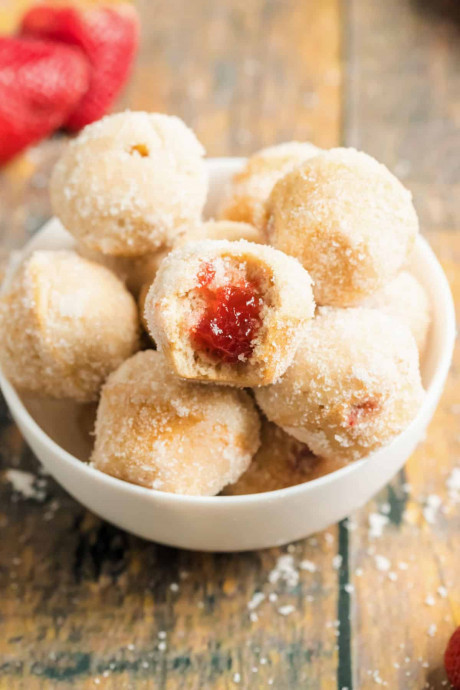 Homemade Jelly Filled Donut Holes are easier to make than you think. Better than Dunkin' Munchkins, these cute donut bites are rolled in a sugar topping and bursting with sweetness! There is something so perfect about a rich pastry and hot cup of coffee in the morning.
These ended up reminding me quite a bit of Munchkins from Dunkin' Donuts. Only they taste even better because they're made fresh with ingredients you recognize.
Here are a few more reasons this recipe is amazing: Can be made with any flavor jelly. Strawberry, grape, raspberry–you choose! Baked donut holes. No frying or boiling oil to worry about. These tiny jelly donuts are baked in a mini muffin pan. Easy to make. With only 20 minutes of baking time, these donut holes are ready to eat in no time. Buttery sugar coating. Roll the baked jelly filled donut holes in butter and sugar to give them a satisfying layer of extra sweetness. No yeast needed. These treats are leavened with baking powder instead. Jelly. Any flavor of jelly works. We use strawberry preserves in our donut holes. Try rolling these in cinnamon sugar mix instead of just the sugar. Delicious.
Ingredients:
For the donut holes:
⅓ cup granulated sugar
4 Tablespoons unsalted butter, softened
1 large egg
⅓ cup whole milk
1 cup all-purpose flour
1 teaspoon baking powder
¼ teaspoon kosher salt
¼ teaspoon cinnamon
For the filling and topping:
3 Tablespoons unsalted butter, melted
½ cup granulated sugar
½ cup strawberry jelly (or any flavor)