Buffalo Broccoli Salad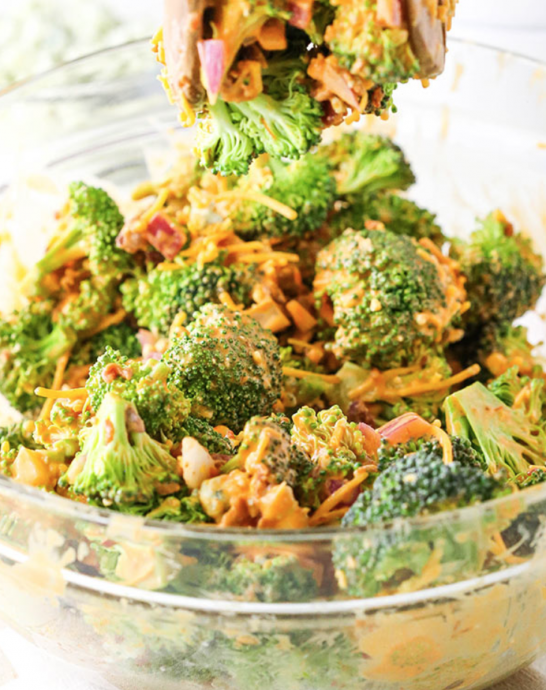 This Buffalo Broccoli Salad is a fun, spicy twist on the classic broccoli salad! It's made with a combination of broccoli, red onions, bacon, blue cheese, cheddar cheese and buffalo dressing!
This Buffalo Broccoli Salad is super easy to put together, making it even better. Just combine the broccoli, red onion, bacon, blue cheese and cheddar dressing in a large bowl. From there, combine some buffalo sauce with blue cheese dressing and pour it over the combination. Toss it all together and you're done!
Of course this is plenty easy to change up, if you like. It definitely has a kick to it, so if you'd prefer it to be a little less spicy, you could reduce the amount of buffalo sauce and increase the blue cheese dressing. Even ranch dressing would work, if you aren't a fan of blue cheese. And if you wanted to turn this into more of a meal, you could chop up some chicken and add it to the mix. A great lunch option to make ahead for the week!
Ingredients:
6 cups broccoli florets (about 2 heads of broccoli)
1/2 cup shredded sharp cheddar cheese
1/2 cup blue cheese crumbles
1/2 cup crumbled bacon*
1/3 cup diced red onion
1/2 cup ranch or blue cheese dressing
1/2 cup buffalo sauce
1 tbsp sugar, optional