Sheet Pan Shrimp with Asparagus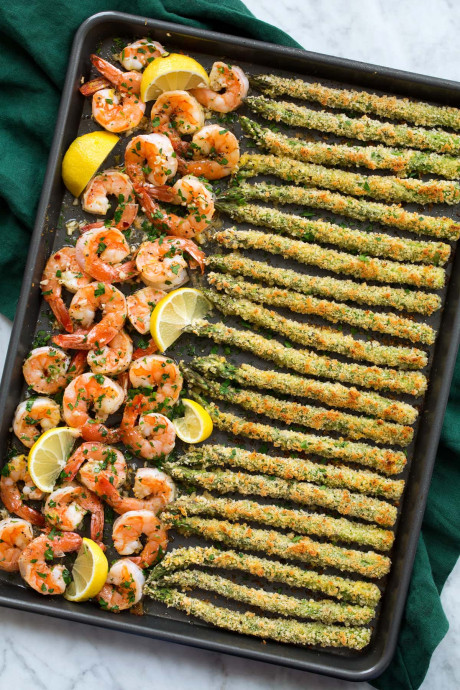 Sheet Pan Shrimp and Asparagus – with garlic lemon butter shrimp and panko parmesan crusted asparagus all baked together on one pan! It's a flavorful easy dinner that's sure to impress!
Shrimp and asparagus were just made to go together. It's a simple yet delicious flavor pairing. Then when you enhance those flavors with garlic, butter, parmesan and lemon you turn it into a gourmet dinner.
And that crispy, crunchy panko coating on the asparagus turns a simple veggie into something completely crave-able. It's a fun way to make a different type of "fries." Yes, I will admit, even I get a little annoyed when making a meal that I have to break out three extra dishes to dredge something, such as is done with the asparagus. But if you've got the time, it's easily worth it. It's one of my favorite ways to prepare asparagus! If you're in a rush (or just hate extra dishes), I've included a simplified method for those busy days.
Ingredients:
1 lb asparagus (medium thickness), tough bottom ends trimmed
1/2 cup all-purpose flour
2 large eggs
1 cup panko bread crumbs
1/2 cup freshly grated parmesan cheese
3 tsp lemon zest, divided
2 tsp Italian seasoning, divided
Salt and freshly ground black pepper
1 1/4 lbs. jumbo or extra large shrimp, peeled and deveined
5 Tbsp butter, divided
1 Tbsp minced garlic (3 cloves)
1 Tbsp lemon juice
1/8 tsp red pepper flakes, or more to taste
Olive oil cooking spray
2 Tbsp minced fresh parsley