Herbed Egg Whites & Feta on English Muffins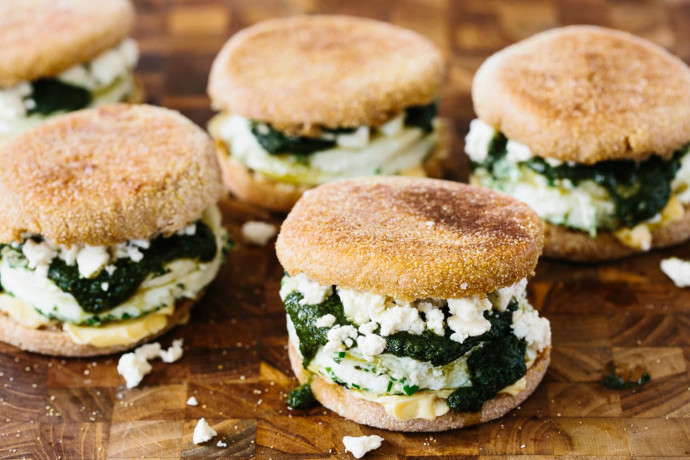 Not only will you love pulling this make-ahead sandwich out of the freezer on weekday mornings, but it will also totally change the way you think about egg whites. Skipping the yolks doesn't have to mean leaving flavor behind. Mixed with half and half, plenty of seasoning, and flecked with fresh basil and chives, thick and creamy egg white rounds are the base of this fresh and flavorful English muffin breakfast sandwich.
A swipe of good-quality salted butter over one half of the English muffin brings a subtle richness that you don't expect to get with egg whites. It's also useful when reheating the sandwich: As the sandwich thaws and cooks in the oven, the butter melts into the nooks and crannies of the muffin and coats the egg round for a freshly made taste.
Made in a big batch, these freezer-friendly breakfast sandwiches are your solution to an easy and satisfying hot breakfast on even the most hectic weekday mornings. Because you're putting in the work to prepare breakfast in advance, you deserve to get the most out of your efforts. All these sandwiches will take you through well over a week of breakfasts.
Ingredients:
Cooking spray
1 1/2 quarts purchased egg whites
1 1/4 cups half-and-half
1 teaspoon kosher salt
1/4 cup finely chopped fresh basil leaves
1/3 cup finely chopped fresh chives
1/4 cup basil pesto
1/4 cup salted butter, at room temperature
3/4 cup crumbled feta cheese
12 whole-wheat English muffins, split