20-Minute Cashew Chicken Zoodles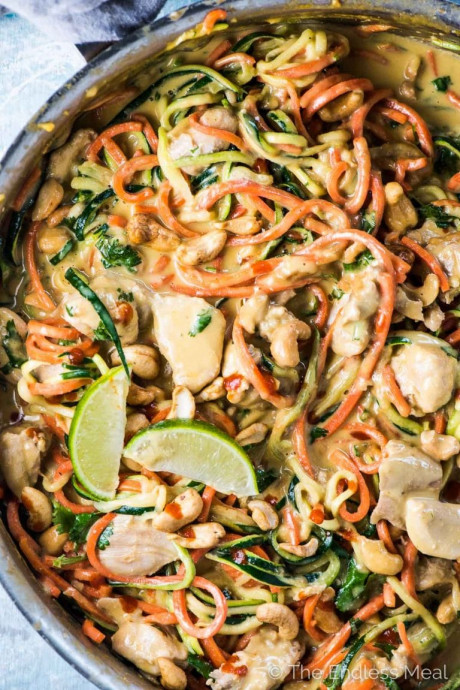 Cashew Chicken Zoodles are a super easy to make and delicious weeknight dinner recipe. They're loaded with healthy and low carb veggie noodles smothered in a creamy cashew sauce that is totally addictive. This is our favorite chicken and zoodles recipe! They're even more fun to eat. I mean really, what's better than twirling noodles around your fork and knowing that they're good for you. I know there are tons of zoodles recipes with chicken out there, but this one really is the bomb. It's quickly jumped to the top of my favorites list!
What are cashew chicken zoodles? The best cashew sauce ever. Creamy, luscious, tasty and make with cashew butter so you can make it even if you don't have a crazy powerful blender. (but you can use whole cashews if you have them on hand and a blender that will puree them.) Juicy bites of chicken wrapped in the best cashew sauce ever. All the zoodles and carrot noodles (coodles?) tossed in more of that creamy sauce. Crunchy, salted cashews. Because yum.
Ingredients:
1 teaspoon avocado oil
4 boneless chicken thighs (or 2 chicken breasts), cut into bite-sized pieces
2 medium zucchinis, spiralized
2 medium carrots, spiralized
1/2 cup roasted cashews
1/4 cup chopped cilantro
THE SAUCE
1/2 cup chicken stock or water
4 tablespoons cashew butter (can sub almond butter)
1 tablespoon soy sauce (gluten-free, if needed. Coco aminos for paleo and Whole30)
1 teaspoon hot chili sauce
1 teaspoon honey (omit for Whole30)
Juice from 1 lime
2 garlic cloves, grated on a Microplane or finely minced