Roasted Mexican Zucchini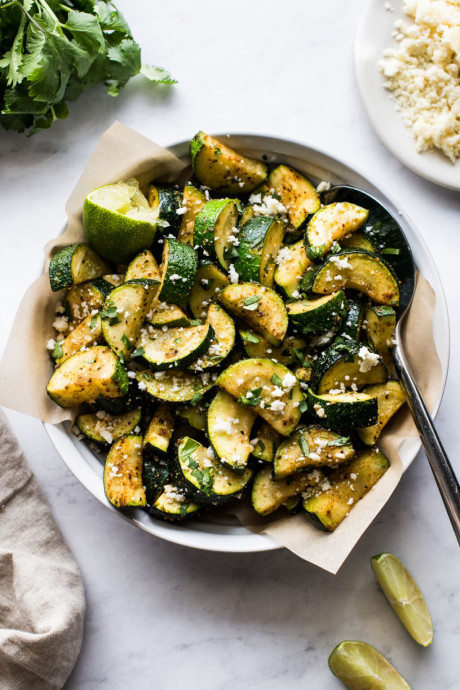 Roasted Mexican Zucchini is the perfect low-carb side dish that's easy to make and ready in only 20 minutes! Tossed with a handful of seasonings, lime juice, cilantro, and cotija cheese, it's a quick and flavorful side that goes well with any Mexican lunch and dinner.
Zucchini is a magic vegetable that can easily transform into noodles, enchiladas, or, in this case, a delicious roasted side dish. This Mexican Zucchini is easy to throw together when you need a delicious and light vegetable side dish to pair with Sheet Pan Steak Fajitas, Instant Pot Chicken Tacos, and the rest of your weeknight dinners.
Adding Mexican seasonings and oil to this sponge-like vegetable gives it a huge pop of flavor. As the zucchini roasts in the oven, it tenderizes and soaks in all the deep and savory flavors. Top it with a little cotija cheese, lime juice, and cilantro once it comes out of the oven, and you're ready to enjoy this exciting and delicious meal!
Ingredients:
4 medium zucchini, sliced into 1/2-inch half moons
1 1/2 tablespoons olive oil
1 teaspoon kosher salt
1/2 teaspoon chili powder
1/2 teaspoon garlic powder
1/2 teaspoon black pepper
1/2 teaspoon onion powder
1/4 teaspoon ground cumin
2 tablespoons crumbled cotija cheese
juice of 1/2 lime
2 tablespoons chopped cilantro