Baked Brie in Puff Pastry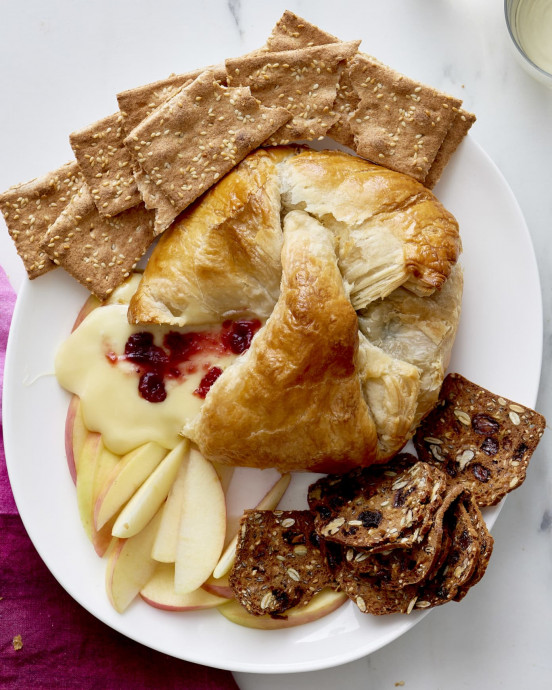 Baked brie in puff pastry takes "rich and luxurious" to a whole new level — I can think of few things better. Like all of the best appetizers I can think of, this one rates low on the difficulty scale and high on the delivery scale. All you do is wrap a wheel of brie in a thawed sheet of puff pastry and bake until golden, but the combination of warm, melted cheese and crispy pastry is virtually impossible to resist.
Brie and puff pastry make a formidable duo all on their own, but you can up the ante by topping the wheel of brie with any number of things before wrapping it in pastry.
This technique — wrapping brie in puff pastry and baking until golden — can be used on brie wheels big and small. While the recipe is written for a large wheel, mini brie wheels also deliver warm, cheesy goodness in a two-bite appetizer. The only real advice I'd give you when making this otherwise straightforward appetizer is to let it cool for a good five or 10 minutes before serving it. This gives the melted cheese just a little time to firm up — it will still be gooey and scoop-able, but no longer molten lava oozing across your plate and burning mouths. You can serve it directly from the pie plate, which frees up a platter for another use, and the pie plate neatly contains the cheesy goo.
Ingredients:
1 sheet puff pastry, thawed but still cold
All-purpose flour, for rolling
1 (8 to 12-ounce) round brie cheese (5- to 7-inches in diameter)
1 large egg, beaten
Baguette slices or crackers, for serving