French Dip Crescents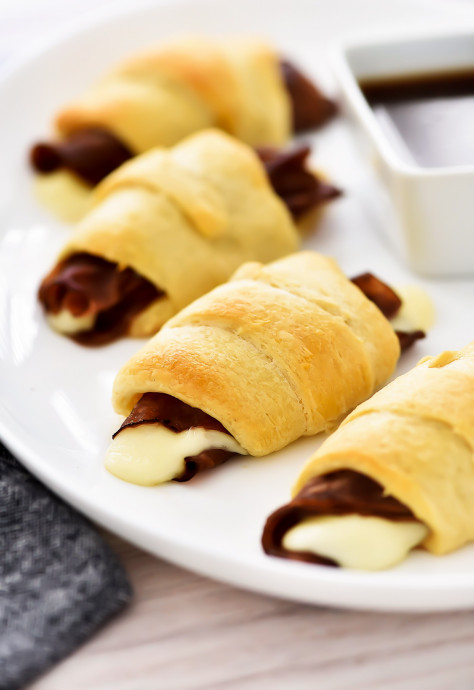 French Dip Crescents are savory little beef sandwiches with melty cheese all wrapped up in warm and golden crescents. Dip them in au jus sauce for an incredible lunch or dinner! I fell in love when I first made these French Dip Crescents about 8 years ago. You all know me and my love of crescent dough. I use it all the time.
I also adore French Dips. They are one of my favorite sandwiches. The two combined, I knew would be spectacular. These little French dips could not be any easier to make and would be perfect to serve for an easy lunch or dinner. I do suggest doubling or tripling the recipe if you're feeding a crowd, because these little babies will go fast! These crescent roll bites are versatile and can easily be switched up to meet anyone's tastes. Use shredded rotisserie chicken, diced deli turkey, leftover Thanksgiving turkey, Christmas ham, or sliced sauteed steak. If you're not a fan of Mozzarella cheese, you could use extra sharp cheddar, Colby Jack, provolone, pepper jack, mozzarella, just about any cheese you like! Try using flavored cream cheese too! A good onion and chive cream cheese gives the flavor an extra boost. No green peppers on hand? No problem. Switch out to red, yellow or orange peppers, which gives the crescent roll-ups a sweeter flavor.
Ingredients:
1/2 pound deli roast beef thinly sliced
4 pieces Mozzarella string cheese cut in half
1 can (8 ounces) refrigerated crescent rolls
1 packet (1 ounce) Au Jus mix