Pear Pomegranate Salad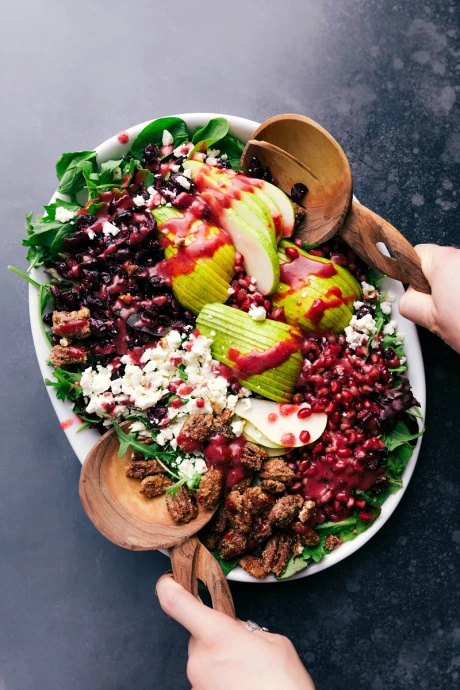 This delicious Pear Pomegranate Salad starts with mixed greens tossed with candied pecans, fresh Bartlett pears, pomegranate arils, sweetened dried cranberries, and feta cheese. Drizzle the delicious raspberry poppy seed dressing (made with real raspberries) over this salad and enjoy!
Pear Pomegranate Salad Shortcuts: Candied pecans. As mentioned above, the candied pecans can be prepared ahead of time, which definitely seems like a shortcut when it's time to assemble everything. That said, you can buy already candied pecans at the grocery store. Pomegranate. Buy pre-seeded pomegranate arils Pears. If you don't have access to fresh, ripe pears, use some canned (in 100% juice) pears and thinly slice those for the salad.For optimal texture in Pear Pomegranate Salad, wait until the pear is ripe — crunchy unripe pears aren't ideal. Dressing. Prepare the dressing 1-2 days in advance to save time at assembly. Once it has been blended up, transfer the dressing to a Mason jar and keep in the fridge. Stir it well before drizzling over the Pear Pomegranate Salad. If you don't have time to make the dressing from scratch, a good alternative is mixing together (in equal parts) good-quality store-bought poppyseed dressing with a store-bought raspberry vinaigrette.
This salad doesn't sit or store well once it's made. Once assembled, the salad needs to be eaten soon after; otherwise, the raspberry dressing wilts the greens, the pears will brown, and the pecans will soften.
Ingredients:
1 large egg white
2 teaspoons water
1 teaspoon vanilla extract
1/2 cup light brown sugar lightly packed
1/2 cup white granulated sugar
3/4 teaspoon fine sea salt
1 teaspoon ground cinnamon
4 cups (1 pound) pecan halves
Salad
1 bag (6-8 ounces or about 8 cups; 180g) fresh spring mix (baby lettuce & baby greens)
1 cup (177g) pomegranate arils
3/4 cup (99g) dried sweetened cranberries or dried tart cherries
2 large Bartlett pears thinly sliced
1/3 cup (49g) feta cheese optional
Dressing
3 tablespoons (43g) red wine vinegar
5 tablespoons white granulated sugar
1/2 teaspoon fine sea salt
1/2 teaspoon Dijon mustard (do not use regular mustard)
1/2 cup (70g) frozen raspberries completely thawed
1/2 cup (104g) vegetable oil (canola or olive oil will work)
1 and 1/2 teaspoons poppy seeds